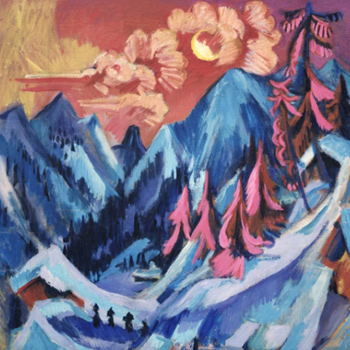 Peggy Setje-Eilers, assistant professor of German at Vanderbilt, will discuss "Bertolt Brecht and Expressionism" at 6:30 p.m. Thursday, Nov. 1, at the Frist Center for the Visual Arts. The lecture is free and open to the public and will be held in the Frist Center Auditorium.
The lecture will explore the relationship between Epic Theatre and the German Expressionist artworks currently on view at the Frist in German Expressionism from the Detroit Institute of Arts.
Setje-Eilers will examine the texts and lyrics of Bertolt Brecht and the musical compositions of Kurt Weill, Hanns Eisler and Paul Dessau to make a connection between Brecht's work and the modernist disruptions and disjunction in expressionist visual arts. She will begin by examining Brecht's development of Epic Theatre, which took issue with the goals of classical Aristotelian theater and later also with the German Expressionists.
The distortion of expressionistic artwork evoked emotions rather than encapsulated pure visual reality. This contrasts with many elements of Brecht's theater style, which instead of wanting the audience to become lost in the play emphasized the spectator's awareness of what was happening to put the experience of watching and critical thinking at the forefront.
Contact: Maggie Carrigan, (615) 744-3351
mcarrigan@fristcenter.org