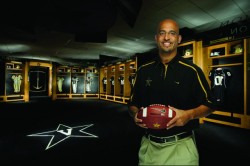 Dear Vanderbilt faculty and staff,
Thanks so much for your support this season! We are very appreciative not only for the work you do on behalf of this great university, but also for the backing you have given our football program.
This Saturday night, we encourage you to continue your tremendous support by attending our Homecoming football game against UMass. Kickoff is set for 6:08 p.m., and a brief fireworks show will ensue shortly after the game ends. Bring your co-workers, family and friends and help us create the best college football environment in the country!
How can you help us do this?
Wear BLACK and GOLD
Be EARLY
Be LOUD
Be PROUD!
We are tirelessly working to build a product you and this community can be extremely proud of; however, we cannot do it alone. Your attendance shows a commitment to our student-athletes, our athletics department and this great university.
Show your BLACK and GOLD on Saturday night, and we will show you a truly unique football experience!
Anchor Down,
James Franklin
Head football coach
Vanderbilt University