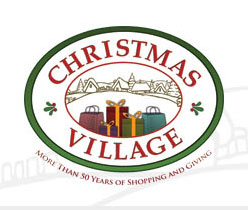 The Commodore Concierge now has Christmas Village tickets on sale for $8 (they are $10 at the door), payable by check only to Christmas Village.
Christmas Village is scheduled for Nov. 9–11 at the Tennessee State Fairgrounds. More than 250 merchants and 25,000 shoppers from across the United States will participate. A variety of unique seasonal and gift items will be offered, including toys for all ages, clothing for children and adults, jewelry, food items, pottery, collectibles, and unusual pieces for "the person who has everything."
The event is organized and operated solely through volunteer efforts by the Nashville Pi Beta Phi Alumnae Club to benefit the Vanderbilt Bill Wilkerson Center and other Pi Beta Phi philanthropies.
During its 51-year history, the event has generated more than $8 million benefiting thousands of people, including special hearing and speech programs at the Vanderbilt Bill Wilkerson Center, and teens and adults recovering from traumatic head injury and stroke at the Vanderbilt Medical Center Pi Beta Phi Rehabilitation Institute.
For more information, visit www.christmasvillage.org.
The Commodore Concierge offers discount movie tickets, RTA/Music City Star tickets, stamps and other services.
For more information, stop by or call one of the offices:
Medical Center North main lobby, D-2103
(615) 343-8254
Monday–Friday, 8 a.m.–4:30 p.m.
Monroe Carell, Jr. Children's Hospital at Vanderbilt
Second floor off the sky bridge from South Garage, Suite 2200
(615) 936-8253
Tuesday, Wednesday and Thursday, 8 a.m.–4:30 p.m.
Vanderbilt Health One Hundred Oaks, Suite 22115
(615) 936-7977
Tuesday–Thursday, 10 a.m.–2 p.m.
Contact: Midori Lockett, (615) 322-4493
midori.lockett@vanderbilt.edu