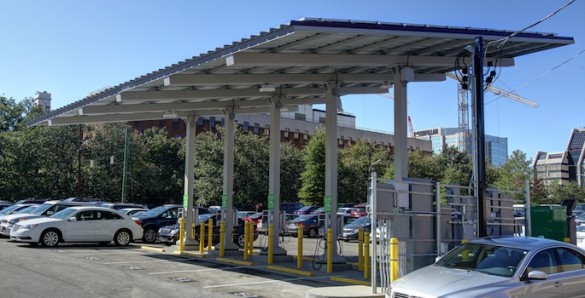 Vanderbilt's solar-powered electric vehicle (EV) charging station at the corner of 21st Avenue South and Broadway is up and operating.
The Smart Modal Area Recharge Terminal, or SMART station, can accommodate 10 vehicles and joins five other stations scattered across the university campus and medical center, bringing the total number of EV charging bays at Vanderbilt to 19.
"Vanderbilt can now offer commuting staff, students, patients, visitors, attendees at athletic events and the local community the opportunity to charge electric vehicles at many different locations throughout campus and the medical center," said Andrea George, director of Vanderbilt's Sustainability and Environmental Management Office.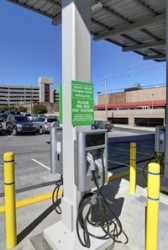 The SMART station is a joint project of Vanderbilt, the Tennessee Valley Authority and the Electric Power Research Institute to collect data on the operation of a charging station as well as the integration of the station into the operation of a "smart" power grid. This data will inform the further development of Tennessee's electric vehicle infrastructure.
"We are very pleased to be working with TVA and the Electric Power Research Institute to study the impact this new technology will have on the power grid and to hopefully help break down barriers to entry for the early adopters of electric vehicles," said Cliff Joyner, assistant vice chancellor for real estate operations, who oversees Traffic and Parking.
Five campus chargers were donated by Schneider Electric. The other four chargers, located at the medical center, were funded by the ECOtality project, a federal initiative to support and promote electric vehicle production.
Vanderbilt was seen as an ideal site for these chargers because of its location and its role as a large employer and health care destination that draws commuters, students, patients and visitors from around the midstate and beyond.
There is no fee for the electricity during charging. Visitors must pay for parking at the Terrace Place, Wesley Place and 25th Avenue Garage chargers and at the SMART station in Lot 5B.
Parking is free at the Dixie Place and Lot 113 chargers but is limited to two hours. Drivers wishing to use these chargers must request an RFID card from the Blink Network to activate the charger.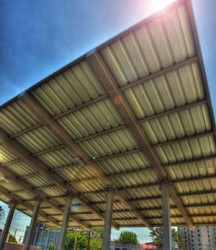 The EV charging spaces are located at:
25

th 

Avenue Garage
Lot 113 (behind the Dayani Center)
Dixie Place lot (Oxford House)
Wesley Place Garage (21

st

 and Scarritt)
Lot 5B (21

st

 and Broadway)
Terrace Place Garage (near the Baker Building)
SustainVU has a map of Vanderbilt's charging stations online.
"In addition to providing a service to our community, these installations should also help to reduce 'range anxiety' by those who might be considering the purchase of an electric vehicle," George said. Electric vehicles typically have a range of about 100 miles per charge—a distance that suffices for most commutes but may be intimidating when there are few options to recharge away from home.
Additional information about commuting alternatives is available at the Vanderbilt University Traffic and Parking and Vanderbilt University Medical Center Traffic and Parking websites.