Media Inquiries
Latest Stories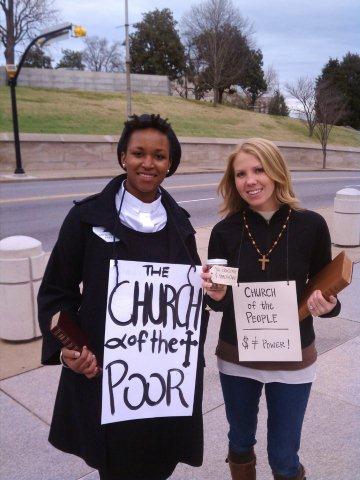 Divinity students to discuss Occupy Nashville experience
Two Vanderbilt Divinity School students will reflect on their experiences within the Occupy Nashville movement and their research on the growing need for street pastoral care during an Oct. 30 community breakfast.
"Radical Chaplaincy: Exploring Alternate Forms of Chaplaincy on the Streets of Nashville and Beyond" takes place from 7:30 to 8:30 a.m. in the Vanderbilt Divinity Reading Room.
Lindsey Krinks and Darria Hudson will discuss street chaplaincy, protest chaplaincy and other forms of caring for those on the margins of society and for those who are working for social change. During the past year, they applied academic research to their experiences as ad hoc chaplains during Occupy Nashville. They also deepened their learning about this growing realm of pastoral care and ministry by seeking out street chaplains in other parts of the nation.
Hudson is pursuing a master of divinity at Vanderbilt after earning her bachelor's degree from Fisk University. While at Fisk, she researched the Nashville sit-in movement during the civil rights era of the 1960s and organized events around issues of racial and economic justice. Hudson, a Carpenter Scholar, studied nonviolence with the Rev. James Lawson and other activists and organizers. During her second year at Vanderbilt, she became an active member of Occupy Nashville.
Krinks, who is working on a master of theological studies at Vanderbilt, earned her undergraduate degree at Lipscomb University. At the Divinity School, she is a Cal Turner fellow. She is also a co-founder of Open Table Nashville and the Amos House Community. She has been heavily involved with Occupy Nashville and dedicated to helping those who are marginalized, both on and off the streets.
The cost of the breakfast is $10. To register, please call (615) 936-8453 or sign up online: http://divinity.vanderbilt.edu/news/breakfasts.php.