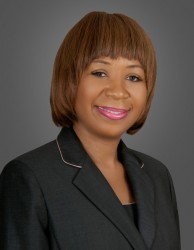 Health care law changes being implemented by the federal government will be addressed during a lunchtime presentation at Vanderbilt University by Pamela Roshell, a regional director with the U.S. Department of Health and Human Services.
Roshell will speak on "The Healthcare Law and You." The talk is noon to 1 p.m. Wednesday, Oct. 31, in the ballroom of the Student Life Center on the Vanderbilt campus at 310 25th Ave. S.
The forum is free and all are invited. It is sponsored by the Health Professions Advisory Office and the Center for Medicine, Health and Society, both of Vanderbilt.
Roshell, regional director of Region IV of the U.S. Department of Health and Human Services, serves HHS's largest region in population and domestic geography. The region comprises Alabama, Florida, Georgia, Kentucky, Mississippi, North Carolina, South Carolina and Tennessee. HHS is the federal government's lead agency for protecting the health of Americans and providing essential human services, especially for those least able to help themselves.
Limited free parking is available for the event under the Student Life Center, accessible from Vanderbilt Place. In addition, paid parking is available in the 25th Avenue Parking Garage and there are some metered parking spaces along Garland Avenue and 24th Avenue South.