Vanderbilt Divinity alumna Anthea Butler will speak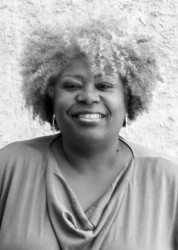 Anthea Butler, a noted scholar on religion and politics who is a regular contributor to national media programs, will deliver the 2012 Cole Lectures at Vanderbilt University Divinity School's Benton Chapel.
This year's Cole lecturer is an associate professor of religious studies and graduate chair of religion at the University of Pennsylvania.
Butler will speak at 7 p.m. Oct. 25 on "Whitewashing the Past: The Religious Right and the Quest to Reframe American History." Her second talk at Vanderbilt will be at 10 a.m. Oct. 26 on "Race, Religion and the American Project."

Both lectures are free and open to the public. Video of the talks can be viewed later at news.vanderbilt.edu.
Butler earned her doctorate in religion from Vanderbilt in 2001. Her books include Women in the Church of God in Christ, Making a Sanctified World (2007, University of North Carolina Press) and the forthcoming The Gospel According to Sarah: How Sarah Palin's Tea Party Angels Are Galvanizing the Religious Right (The New Press).
CNN Belief named Butler among the "Five Women to Watch in Religion in 2012." She is a prolific blogger and contributing editor for Religion Dispatches. In addition, Butler is a frequent guest on the "Melissa Harris-Perry Show" on MSNBC.
Butler's research interests include religion and politics, women and religion, African American religious history, Pentecostalism, fundamentalism and religion in the media.
The Cole Lectures were established in 1892 by Col. E.W. Cole, president of Nashville & Chattanooga Railroad and treasurer of the Vanderbilt Board of Trust, "for the defense and advocacy of the Christian religion." Cole's gift provided for the first sustained lectureship in the history of Vanderbilt University.
Previous speakers have included Harry Emerson Fosdick, George Buttrick, H. Richard Niebuhr, Paul Tillich, James Barr, Edward Farley, Don Beisswenger, Gene TeSelle, David Buttrick, Jim Wallis, James Lawson, John O'Malley and R. Scott Appleby.
For more information, contact Sha'Tika Brown at shatika.brown@vanderbilt.edu.