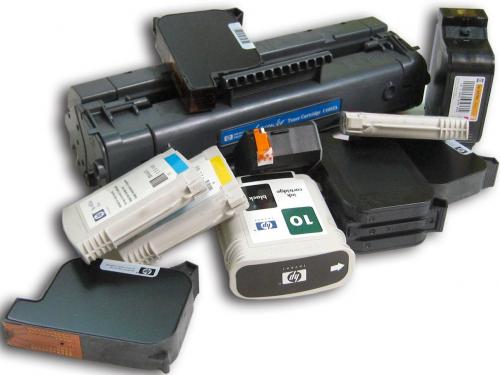 A new program is under way on campus to make it easy to recycle copier, fax, laser and ink jet toner cartridges, as well as old cell phones, iPods and mp3 players. It's good for the earth and it also benefits some good causes that are close to home.
The program, a partnership of the Medical Center Staff Advisory Council and University Staff Advisory Council, the Sustainability and Environmental Management Office (SEMO), Procurement and Disbursement Services (PDS) and Commodore Concierge, will benefit the Monroe Carell Jr. Children's Hospital at Vanderbilt, the Susan Gray School, and the Work/Life Connections Faculty and Staff Hardship Fund, thanks to Vanderbilt's official office supplies provider Guy Brown.
Guy Brown will donate a rebate for each item recycled, which will be equally split between the three organizations on behalf of the staff councils.
How to participate:
Place spent ink/toner cartridges back into their original box and give the boxes to your Guy Brown driver when they are on their regular delivery route here at Vanderbilt, at no charge.
Gather old cell phones (memory wiped clean if a smartphone), iPods, mp3 players in a box and give to the Guy Brown driver. (If you need boxes, call Guy Brown at 615-777-1500 or email customercare@guybrown.com to get boxes for laser and ink jet toner cartridges with pre-paid, pre-addressed labels delivered to you free of charge.)
You may also send your box with a UPS driver at no charge if driver is on site to make a delivery. (Call UPS at 1-800-PICK-UPS to arrange a pick up. Shipping is free but there is a surcharge if you call for the pickup.
Cartridge, battery and fluorescent bulb recycling:
Spent cartridges as well as spent batteries and compact fluorescent bulbs (CFLs) can also be dropped off at the following locations:
Commons Center and Sarratt Student Center main desks
Vanderbilt Kennedy Center (ride the elevator to the bottom floor)
Baker Building next to the mailboxes
Commodore Concierge locations at VUMC, Children's Hospital and One Hundred Oaks
Visit SustainVU online, and become a fan at the SustainVU Facebook page.
Contact: SustainVU, (615) 322-9022
recycle@vanderbilt.edu