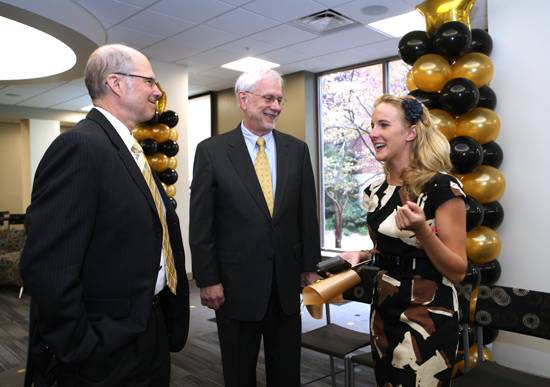 Associate Provost and Dean of Students Mark Bandas, Provost and Vice Chancellor for Academic Affairs Richard McCarty and Vanderbilt Student Government President Maryclaire Manard were on hand for a ribbon-cutting ceremony Oct. 9 to mark the re-opening of Rand Hall following more than seven months of work at Rand and Sarratt Student Center that mark the joint facility's first major renovation in more than a decade.
The results include an updated, cohesive look and better traffic flow between the two buildings, which were first connected in 1999; dedicated meeting spaces for student groups; the addition of offices and conference rooms; and a new mixed-use dining, performance and retail space that features late-night dining options.
The event was held in the new Rand Lounge, which provides flexible seating for 300 and event space to host performances, trivia nights, Athletics viewing parties and more. Rand Lounge also features Pi and Leaf, a new dining option serving handmade pizzas and fresh salads, open Monday-Friday, 11 a.m.-10 p.m., and Saturday and Sunday, 5-10 p.m.
Campus Copy, relocated to a larger space with 24-hour access, and Re(cycle), a bike rental and maintenance shop managed by students, round out the lower floor of the former Vanderbilt Bookstore space.