Explore the Open Enrollment website to learn about 2013 benefit options
Oct. 10, 2012, 3:13 PM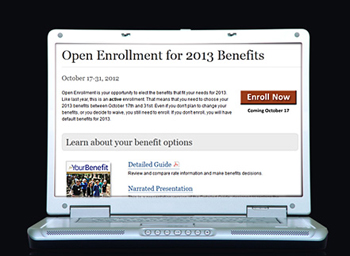 Open Enrollment, the annual opportunity to take charge of your benefits and elect the coverage that fits your needs for the coming year, is Oct. 17-31. This is an active enrollment, which means you need to enroll by 11:59 p.m. Oct. 31 to receive the benefits you want for 2013. If you don't enroll, you will receive default benefits for 2013.
Before you enroll, get educated about your benefit options by visiting these resources on the Open Enrollment website:
eMagazine. Get a big-picture overview of this year's Open Enrollment, plus learn more about how Vanderbilt supports your health and well-being. The interactive format allows you to flip pages, watch video, listen to audio and roll over pictures.
Detailed Guide. Review and compare premium and plan information.
Narrated Presentation. This is a presentation version of the Detailed Guide, designed to replace the information session from years past. The Learning Management System format makes it easy to navigate to the chapters you care about most.
You'll also find additional resources, including an event calendar, cost calculators, videos and more.
If you have questions, please contact the Employee Service Center.
Walk-in: HR Express (3 locations)
2525 West End Ave., 2nd Floor. Monday–Friday, 7:30 a.m.–5 p.m.

Vanderbilt Health One Hundred Oaks, 719 Thompson Lane. Monday–Friday, 8 a.m.–4:30 p.m.
Villages at Vanderbilt, 21st Avenue South. Monday–Friday, 8 a.m.–4:30 p.m.
Contact: Employee Service Center, (615) 343-7000
human.resources@vanderbilt.edu