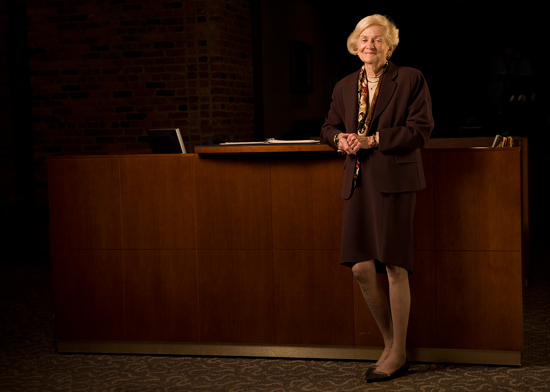 Mary McClure Taylor (John Russell/Vanderbilt)
The Office of the Chancellor will host a gathering in memory of Mary McClure Taylor from 5 to 6 p.m. Tuesday, Oct. 9, in the second-floor lobby of Kirkland Hall. Taylor, the beloved university receptionist who left a lasting impression of warmth, grace and compassion on generations of students and others who visited Vanderbilt's main administration building, died Aug. 5 after a short illness. She was 81.
Beginning Monday, Oct. 1, a memorial book will be available for signing at Taylor's former desk in Kirkland's second-floor lobby. The book will be on display through the month of October for those who wish to sign it or leave a remembrance of her.
Taylor exemplified the spirit of Vanderbilt, serving the university for 57 years through positions in alumni and development, news and public affairs, and university publications. In 1986, then-Chancellor Joe B. Wyatt named Taylor, who then had worked at Vanderbilt for 31 years, to the newly created position of university receptionist.
Taylor's association with Vanderbilt spanned even longer than her working career. Her father, Dr. Christopher C. McClure Sr., was founder and chair of the Department of Radiology at Vanderbilt University Medical Center. As a child she attended Peabody Demonstration School and after high school enrolled in Vanderbilt's College of Arts and Science, where she majored in sociology and minored in political science. Taylor was a member of Alpha Omicron Pi and earned her bachelor's degree in 1952.
Whether greeting a foreign diplomat or cheering on the Vanderbilt basketball team as a faithful fan, Taylor's longstanding connection to the university made her a walking treasure trove of knowledge, information and little-known facts. She possessed a deep, personal understanding of the university's culture, ethos and history.
In recognition of a lifetime of good deeds and committed service, then-Chancellor Gordon Gee named the lobby of Kirkland Hall in her honor in September 2006.
Faculty, staff, students and alumni are invited to attend the Oct. 9 memorial gathering in the Mary McClure Taylor Lobby. The event will be casual, and light refreshments will be served.
Contact: Cathy Sgambati, (615) 322-0885
cathy.sgambati@vanderbilt.edu