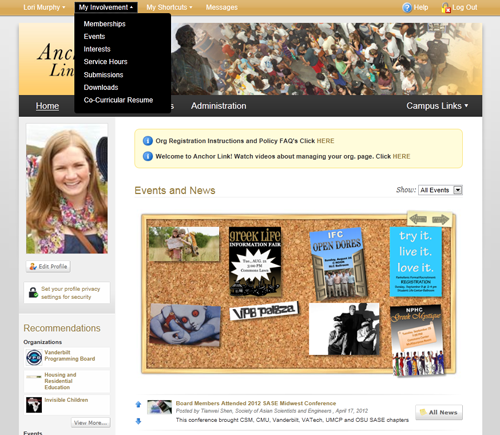 There is a new system on campus that is transforming the way Vanderbilt manages the co-curricular student experience: Anchor Link.
A joint initiative between the Office of the Dean of Students and Vanderbilt Student Government, Anchor Link is an online student involvement platform that helps students become engaged on campus and manage their experiences outside the classroom.
Every undergraduate, graduate, and professional student has a profile in the system which they can use to join student organizations and get recommendations for groups and events based on their designated interests. "Anchor Link is a means by which like-minded students can connect with each other and find organizations to get involved with based on their mutual interests," said David Head, President of the Vanderbilt Programming Board.
Anchor Link keeps track of a user's campus involvement and automatically creates a co-curricular resume for each student including their organization memberships, leadership positions, attendance at campus programs, and community service hours logged. "I first encountered Anchor Link while registering for student organizations. Now, I am realizing how central Anchor Link will become in organizing my extra-curricular activities and finding out what events are taking place around campus," said first-year Sam Boyette.
The system provides a central location for advertising campus events and offers robust functionality for managing student organizations and university programs. Organizations can use Anchor Link to publicize events, store documents, create historical records, conduct elections, and even e-mail and text message members. "Anchor Link streamlines the process for recruiting new members, holding events, and disseminating information," explains senior Emma Trawick. "It's never been this easy to connect with students who want to be involved with your organization."
A quick surge of activity in the system suggests student adoption of Anchor Link is occurring at a rapid pace. Since the start of classes, over 5700 unique users have logged in and an impressive 910 events have been input into Anchor Link. 100 card readers have been purchased for student organizations and university departments to use to track attendance at events and capture the names and campus e-mails of attendees.  At the student organization fair, 35 groups used card readers to recruit new members and totaled 3,913 swipes.  Although students are still discovering how to utilize all the system's numerous features to their benefit, it's clear that Anchor Link is already becoming a central part of the co-curricular experience here at Vanderbilt.
All areas within the Office of the Dean of Students have pages in Anchor Link and are taking advantage of this resource to communicate with students and promote their programs and events. In addition, numerous other units across the University are also utilizing the system such as the Blair School of Music, the Office of Stewardship, Vanderbilt Institute for Global Health, the Office of Parents and Family Programs, Vanderbilt Campus Dining, the Bishop Johnson Black Cultural Center, and the Communication of Science and Technology Department.
For more information, visit Anchor Link online or come to one of the DigitalVU presentations at 2 p.m. on Oct. 10 or 10 a.m. on Oct. 23 in the Robert Penn Warren Center.
If you have any questions or are interested in using Anchor Link for your department or program, contact Lori Murphy, program coordinator for Anchor Link, at lori.t.murphy@vanderbilt.edu.
Contact: Lori Murphy, ((615) 875-2532
lori.t.murphy@vanderbilt.edu