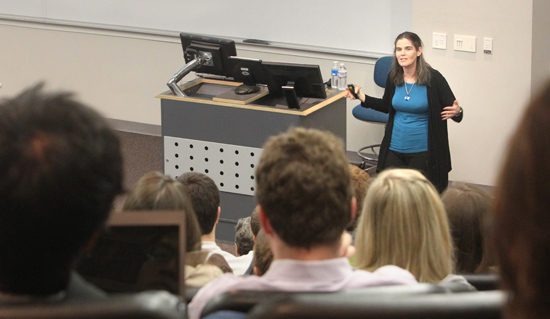 Since its launch roughly a year ago, the online learning consortium Coursera has grown to more than 1.5 million registered users. This rapid expansion speaks to the "hunger" around the world for access to higher education, said Coursera co-founder Daphne Koller, who spoke at Vanderbilt Oct. 2 as part of the 2012-13 John R. and Donna S. Hall Engineering Lecture Series.
Koller cited South Africa, where only one in eight people who apply to national universities are admitted, and the United States, where the cost of higher education has risen twice as fast as that of health care, as just two examples of how traditional higher learning is beyond reach for many people.
"[rquote]There's a hunger for education in large parts of the world because it's difficult to make a better life for oneself without it," Koller said.[/rquote] Coursera's mission is "to give everyone access to the world-class education that has so far been available only to a select few," and "to empower people with education that will improve their lives, the lives of their families and the communities they live in."
A computer science professor at Stanford University, Koller created Coursera with her Stanford colleague Andrew Ng as a nonprofit enterprise that partners with the world's top universities to offer free online courses. These types of open-access, non-credit classes are commonly known as MOOCs, or massively open online courses.
To date, 33 universities worldwide have partnered with Coursera, and on Sept. 19 Vanderbilt announced it would offer five courses through the online platform beginning in spring 2013. In the two weeks since joining Coursera, 30,000 users and counting have registered for the Vanderbilt courses.
Koller credits Coursera's success to the dynamic nature of its course offerings. "Coursera takes in an online form something that looks and feels like a real college class," she said.
Classes are scheduled for a set time each week and require real homework, and participants learn among a cohort of fellow students and receive a certificate upon completion. Coursera also implements cutting-edge pedagogical techniques that break from the one-size-fits-all nature of traditional classroom learning.
Coursera's video lectures are divided into short chunks that can be watched at one's own pace, multiple times, and with subtitles in many languages. The learning is interactive, with frequent testing to aid in the comprehension and retention of material. Open-ended work is graded using a sophisticated peer-assessment pipeline, and robust online question-and-answer forums allow Coursera learners to ask questions and get answers about their course work quickly from fellow users.
These forums have served to connect learners worldwide. Virtual study groups have sprung up in chat rooms, while actual study groups have spontaneously formed in as many as 1,500 cities.
Coursera is breaking ground in other ways as well. Organizers are able to collect information from every online action taken by users, allowing them to gather unprecedented data about learning from a very large sample.
"It's providing a new window into human learning by turning the study of learning into a data science," Koller said.
It's also making a real difference in people's lives. Koller said she hears frequently from satisfied users, including one recently from Kazakhstan, who completed Coursera course work, included it on his résumé, and as a result, got a job with Twitter.
It's stories like this that reinforce one of Koller's fundamental beliefs.
"Education is a right," she said, "not a privilege."