Longtime prisoner Russell Maroon Shoats focus of discussion
by
Ann Marie Deer Owens
Oct. 4, 2012, 3:20 PM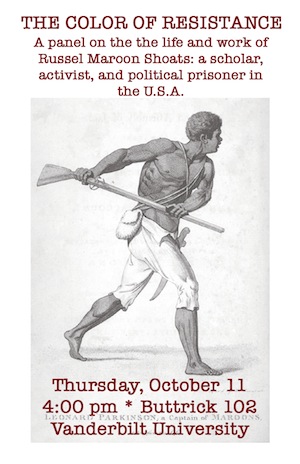 A panel of scholars and activists will discuss the impact of longtime prisoner, writer and activist Russell Maroon Shoats on grassroots political activism Oct. 11 at Vanderbilt University.
"The Color of Resistance: The Life and Work of Russell Maroon Shoats" takes place 4 to 6 p.m. in Buttrick Hall, Room 102.
Shoats has been imprisoned for more than 30 years with 21 consecutive years in solitary confinement at a Pennsylvania prison. He is serving multiple life sentences for the 1970 murder of a Philadelphia area police officer. Shoats is a founding member of the Black Unity Council and former member of the Black Panther Party.
In recent years, Shoats has collaborated with a group of eco-socialist artists and activists called Scientific Soul Sessions. He has a keen interest in food politics and urban farming projects as a way for disenfranchised communities to reconnect with the land and each other.
The panelists are: Theresa Shoats, Maroon's daughter and political activist; Kanya D'Almeida, editor of Inter Press Service News Agency and member of Scientific Soul Sessions; Jane Landers, Gertrude Conaway Vanderbilt Professor of History and author of Atlantic Creoles in the Age of Revolution; and Lisa Guenther, associate professor of philosophy at Vanderbilt and author of The New York Times Opinionator article "The Living Death of Solitary Confinement." Guenther is writing a book on the same topic.
In his written work, Shoats draws connections between historical fugitive slave communities, also known as maroons, and contemporary political events such as the Arab Spring and the Occupy movement, according to Guenther. "Maroon Shoats sees the decentralized structure of early maroon communities as a model for grassroots political organizing today," she said.
Juan Mendez, the United Nations Special Rapporteur on Torture and Other Cruel, Inhuman or Degrading Treatment or Punishment, has launched an official inquiry into Maroon's situation. D'Almeida and Bret Grote, investigator with the Human Rights Coalition, have condemned solitary confinement as "Torture chambers for black revolutionaries" in a recent article for Al Jazeera.
The discussion, which is part of a series of events called "A Year of Rethinking Prisons," is free and open to the public. For more information, contact Guenther at 615-512-5884 or lisa.guenther@vanderbilt.edu.