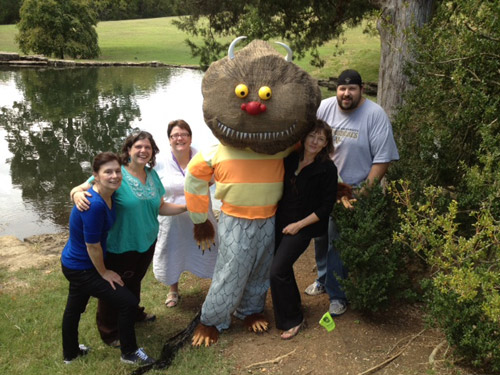 If you visit Cheekwood Art and Gardens this fall, keep your eyes out for a frightening and funny fellow who looks as though he's jumped right off the pages of Maurice Sendak's classic children's book, Where the Wild Things Are.
As part of Cheekwood's annual Harvest Festival, more than 40 local organizations, including Vanderbilt University, were asked to create silly, spooky and scary scarecrows to greet visitors to the festival. This year's exhibit had a literary theme, so naturally staff members from Vanderbilt's library systems were called upon to help.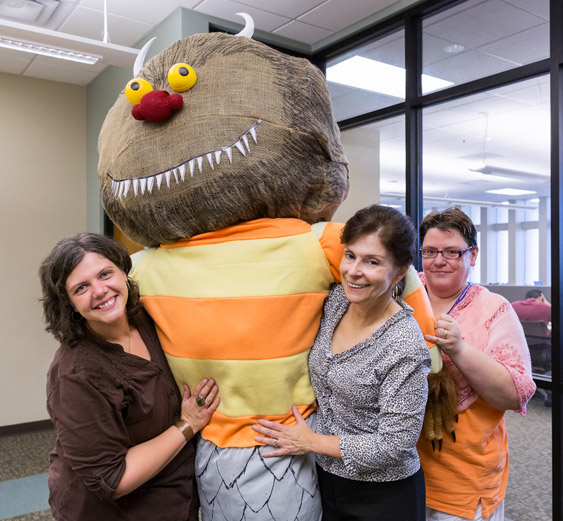 Lara Beth Lehman, who is Peabody Library's curriculum materials center manager, was one of a small team of volunteers who created a scarecrow to represent the university.
"We knew right off we wanted to do something from a children's book and a character that was instantly recognizable," Lehman said. "We looked at Max and Ruby, Elephant and Piggie, The Hungry Caterpillar, and a host of others, but our team leader (Nancy Dwyer, programs and special projects coordinator
 for the Jean and Alexander Heard Library) suggested Where the Wild Things Are and that was that – he's perfect. He's a monster, so he fits in with the Halloween season, and is a recognizable figure from children's literature."
The scarecrow's body was constructed of chicken wire wrapped in bubble wrap and grocery bags. The head was made of chicken wire and stuffed with packing peanuts. In all, it took about 15 hours to make the creature, which the team dubbed "Let the wild rumpus begin" (a line from the popular book).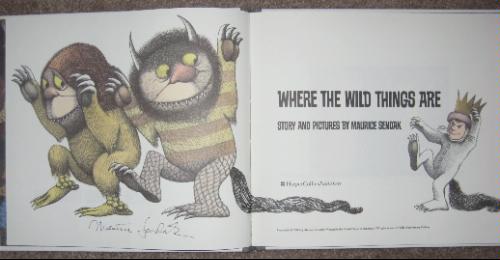 "It was so much fun to work with colleagues that I would otherwise never have the opportunity work with," said Dwyer. "We did a lot of laughing during construction, but at the same time we were serious about building something that Vanderbilt Library employees would be proud of."
Rounding out the scarecrow construction and installation team were Carlin Sappenfield, reference librarian for the Stevenson Science and Engineering library; Carla Beals, coordinator for digital exhibits and projects; and Library Messenger Greg Collins. Cheekwood's Harvest Festival runs now through Oct. 31.
To see more images of the scarecrow's construction, see the slideshow.
Contact: Nancy Dwyer, 615-343-1222
nancy.dwyer@vanderbilt.edu