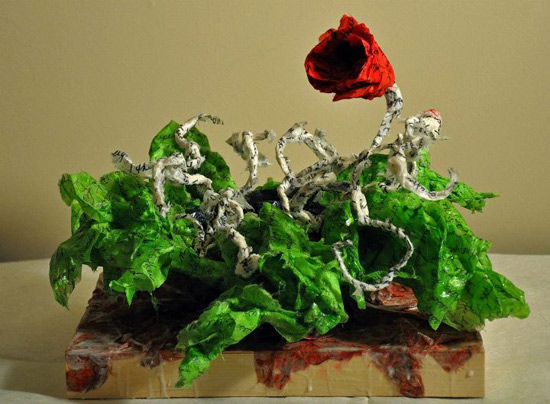 The Identity Sculptures Project, a Curb Creative Campus initiative exploring the relationship between creativity and human identity, is seeking submissions from Vanderbilt faculty, staff and students that respond to the topic "creative identities." Submissions may be in the form of poetry, creative prose or experimental reflections of any style.
Selected writers will participate in a unique campus-based sculpture and writing project designed to evoke questions and foster dialogue about identity through language and visual art. Artist Lori Anne Parker-Danley, an editor in the patient education department at Vanderbilt University Medical Center, is spearheading the project, which was born out of her interest in the relationship between writing and art and the ways language and storytelling shape and are shaped by our bodies and identities. Parker-Danley will be creating sculptures that respond to and engage with the selected writings and their authors. One of the goals of the project is to create occasions for unexpected and spontaneous encounters and conversations—with art, writing and each other—on the Vanderbilt campus.
The identity sculptures will be displayed at various locations on the university and medical center campuses throughout spring 2013. Images of the sculptures along with the writings will be posted on the Web. At the end of the project year, the sculptures will be given to the writers in gratitude for their participation.
Submissions will be accepted through Nov. 30, 2012, and are welcome on a rolling basis. For complete details about the project and submission requirements, visit The Identity Sculptures Project website.
For more details, read The Identity Sculptures Project blog, or visit the project's Facebook page.
Contact: Lori Anne Parker-Danley
lori.anne.parker-danley@vanderbilt.edu