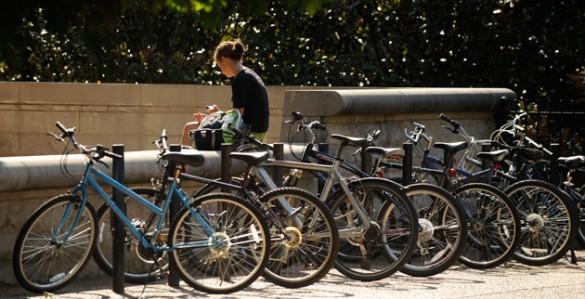 If you ride a bike or walk to campus for work or class, don't be surprised if you see people with clipboards making notes as you pass by in the next couple of weeks.
In an effort to improve the resources for the biking and walking community, there will be a survey to measure the volume of non-motorized commuter traffic at Vanderbilt as well as an audit of bikers and walkers at eight key locations around the perimeter of campus Oct. 8-12.
The effort is led by Assistant Professor of Molecular Physiology and Biophysics Joan Randall and Professor of Psychology David Schlundt. The daily counts will be conducted by pairs of student, staff and faculty volunteers. Supported by the Vanderbilt Center for Nashville Studies, the audit will also include a daily count of bikes parked in and near racks around campus.
Information about the number of bikers and walkers, as well as follow up surveys and focus groups, will be used to support programming and resources aimed to increase the number and regularity of employees and students who walk or bike to campus.
Contact: Donnatesa Dean, (615) 971-8456
donnatesa.a.dean@vanderbilt.edu