'From A to B' housed within niches of original card catalogue
The importance of bees and Tennessee native flowers in local food production is a major theme of a new art installation at the Vanderbilt University Central Library's Food for Thought Café.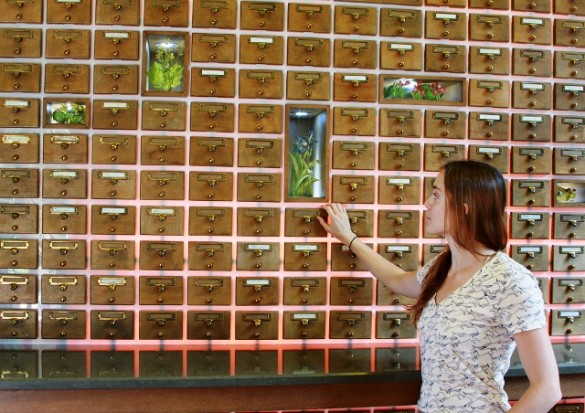 "From A to B" is housed within the display niches of the distinctive and original card catalogue that functions as a "wall" between the serving and seating areas of the café.
Artist Myranda Bair of Las Vegas, Nev., has created 13 dioramas that depict native Tennessee flowering plants and beehives with the use of watercolor on paper cutouts, brass wire and cork.
"For the installation, I definitely wanted to connect to the history of the now obsolete card catalogue," Bair said. "From my perspective, the catalogue represents a history of organization as well as a loss of physicality to information. Digital technology takes up less space and can be accessed anywhere with the Internet, but I miss the tactile quality of the card catalogue."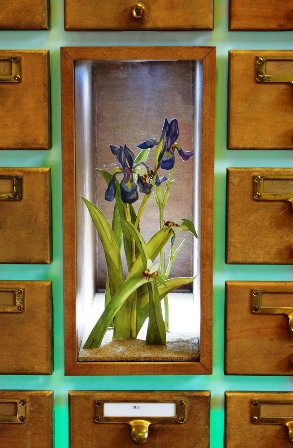 Bair pointed out that farming has become much less tactile as well. "As a community, we tend to become disassociated with the laborious yet magical process in which food is created," she said. "I wanted to give a visual representation of the bee's role in regional food production."
One of Bair's goals was to demonstrate a correlation between the highly organized role of a bee in pollination with the organizational quality of the card catalogue.
Bair's inspiration for native plants came from the Augustin Gattinger Papers that are housed in Vanderbilt Special Collections. In 1901, Gattinger, a botanist and medical doctor, published Flora of Tennessee and Philosophy of Botany. It remains his greatest contribution to the study of botany in the South.
Along with the dioramas in the card catalogue, there is a window display of jars of local honey that Bair collected from the region. "The different honey colors, qualities and containers tell the story of the pollen's long journey from flower to table," she said. She noted that Food for Thought uses local honey in some of its menu offerings.
Bair, who earned her bachelor's degree from the University of Texas at Austin and a master of fine arts degree from the Maryland Institute College of Art, has shown her work in museums and galleries across North America and Italy. She has taught at the University of Utah.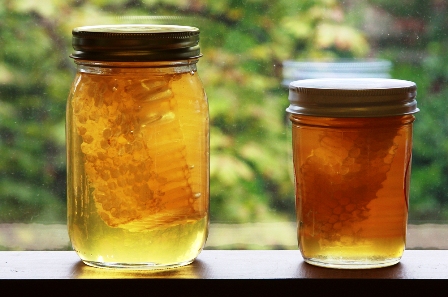 "From A to B" is co-sponsored by the Department of Art and the Office of the Arts and Creative Engagement at Vanderbilt.
Food for Thought Café offers sandwiches, panini, salads, soup, gourmet pastries and beverages from 11 a.m. to one half-hour before the library's closing Monday through Friday and from 3 p.m. to one half-hour before the library's closing on Sunday. It accepts the Vanderbilt meal plan, meal money, credit and debit cards as well as cash.