Media Inquiries
Latest Stories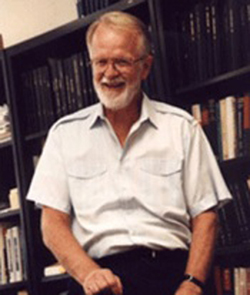 A memorial service for Tomlinson Fort Jr., Centennial Professor of Chemical Engineering, Emeritus, will be held at 2 p.m. Sunday, Sept. 23, in Vanderbilt's Benton Chapel. Visitation with the family will follow at 3 p.m. Fort, 80, died Sept. 13 in Franklin, Tenn.
Fort joined the Vanderbilt School of Engineering in 1989 as a Centennial Professor and chair of the chemical engineering department. He served as chair until 1996. He also was named a professor of materials science in 1990. Fort retired from Vanderbilt in May 2002.
"Tom was a remarkable person. Anyone who met him was drawn to his friendly nature and his laugh, the sparkle in his eye, the clarity of his thinking, and his modesty. He had a vast range of academic experiences and the wisdom to match," said Douglas LeVan, the J. Lawrence Wilson Professor of Engineering and former chair of the chemical and biomolecular engineering department at Vanderbilt. The department honors its outstanding graduate teaching assistant annually with the Tomlinson Fort TA Award.
Fort was an active member of the American Chemical Society, serving in multiple leadership positions, and at his death was an emeritus member. He was one of the founders of Langmuir, a professional journal of colloid and surface chemistry.
He was a member of the American Institute of Chemical Engineers, Sigma Xi, Phi Beta Delta, the International Association of Colloid and Interface Scientists, Alpha Chi Sigma, Gamma Sigma Epsilon and the Knights of Pythias. Active in the Delta chapter of the Sigma Chi fraternity from the time he was a freshman at the University of Georgia, Fort was one of the founders of two new Sigma Chi chapters: one at the University of Missouri-Rolla and the other at California Polytechnic State University.
Prior to joining Vanderbilt, Fort taught at Case Western Reserve University and served as chair of the chemical engineering department at Carnegie Mellon, as provost at the University of Missouri-Rolla, and as provost and vice president at California Polytechnic State University. His academic career spanned nearly 40 years. During this time, he and his students published more than 80 scientific research papers, and he served as adviser and mentor for 21 master's students and 20 Ph.D. candidates.
Fort was born in 1932 in Sumter, S.C., and lived in Athens, Ga. He earned a bachelor's degree in chemistry from the University of Georgia in 1952. He was awarded a Ph.D. in surface chemistry from the University of Tennessee in 1957 and then spent a year in Australia as a post-doctoral researcher at the University of Sydney. Fort worked for the next seven years as a research chemist at Dupont.
Survivors include his former wife, Martha Kirby Fort; children Tomlinson (Marcella) and Frances Clare (Joseph Cress); five grandchildren, Breanna, Marena and Connor Fort, and Clayton and Lucy Cress; his wife, Nancy Harris Blackwelder; stepsons Wayne, Tom and Dean Blackwelder; and two brothers, Jim and John Fort. A graveside service will be held at the Oakview Cemetery in Albany, Ga.
In lieu of customary remembrances, memorial contributions may be made to the National Parkinson Foundation.