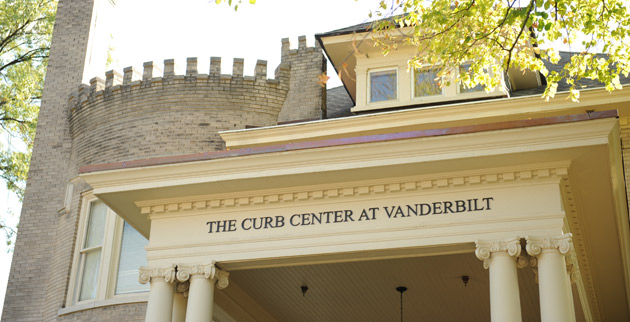 Creativity. Innovation. Change. The Curb Center at Vanderbilt is pleased to announce the winners of its signature Creative Campus Innovation Grant Program, which provides Vanderbilt faculty, staff and students the opportunity to produce original ideas, experiment and innovate in the classroom, and harness their creativity as a force for positive social change.
In 2012-13, the Curb Center will provide over $24,000 in innovation grant funding to support 14 projects designed by faculty, staff and students from across campus, including Arts & Science, Blair, Divinity, Engineering, Nursing, VUMC, Dean of the Ingram Commons, Vanderbilt Center for Student Professional Development, and artists representing the Nashville community.
Projects range from course innovations such as surgeon and professor A. Scott Pearson's MHS 220 course, "Creative Expression of the Illness Narrative" to an exhibition of research images curated by members of the Department of Chemical and Biomolecular Engineering, to campus-wide collaborative art projects, and the Spring 2013 Southeastern U.S. premier of George Antheil's original
 Ballet Mecanique.
Calls for campus participation are currently underway for two projects – the Emotivity in Cloth Collaborative Quilt Project and the Identity Sculptures Project.
To learn more about these and our other Creative Campus Innovation grants, visit the Curb Creative Campus website.
2012-13 Curb Creative Campus Innovation Grant Recipients
Imagining Transformative Justice from the Inside Out
Lisa Guenther, Philosophy
Virtual Eco Village
Doug Fisher, Computer Science and Computer Engineering
Resilience Narratives: Failure, Chaos and Chance Events
Nina Warnke and Jessica Reasons, Ingram Commons
Cindy Funk and Jim Bellar, Center for Student Professional Development
Creative Expression of the Illness Narrative
A. Scott Pearson, VUMC
In the Spirit of Antheil: Bad Boy Meets VORTEX
Michael Holland, Blair School of Music
Discovering Physician-Scientists and Telling Their Stories
Tina Hartert, VUMC
The Artistry of Science: An Exhibition of Research
Christopher R. Iacovella, William R. French, Peter T. Cummings, Department of Chemical and Biomolecular Engineering
The Thread Project: One World, One Cloth
Creative Campus Community Quilt
Crickett Harmer, School of Nursing
Radical Revision
Jen Holt, Writing Studio
"We the People: A Creative Film Project that Examines the Power of the Human Story
Sarah Mather, Graduate Student, Divinity School
The Identity Sculptures Project
Lori Anne Parker-Danley, VUMC
Musicals that Matter
Jim Lovensheimer, Blair
A Virtual Soul Food Feast: Classroom Table Community
Alice Randall, African American and Diaspora Studies
Receive-Process-Return
Robert Bond and Judy Rye, Nashville Community Artists
Contact: Elizabeth Long Lingo
elizabeth.long.lingo@vanderbilt.edu