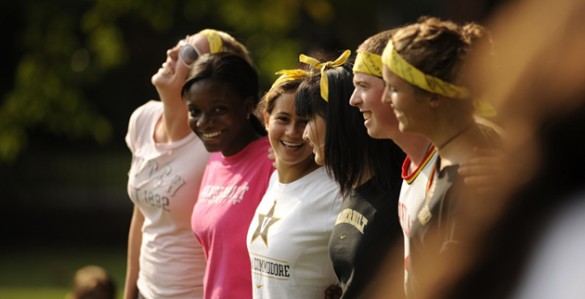 For the fourth straight year, Vanderbilt University holds the No. 17 position on U.S. News & World Report's list of the best national universities.
Vanderbilt also earned nods on U.S. News' lists of Great Schools at Great Prices, undergraduate research and economic diversity.
Vanderbilt School of Engineering remained No. 34 on the list of engineering schools whose highest degree is a doctorate.
"[rquote]Vanderbilt has remained true to its core mission of education and research during challenging economic times," said Vanderbilt Chancellor Nicholas S. Zeppos.[/rquote] "We are dedicated to preparing tomorrow's leaders to respond to society's greatest problems. These rankings are one measure of that commitment."
Vanderbilt shares the No. 17 overall ranking with Rice and Notre Dame. Harvard and Princeton share the No. 1 ranking.
The best national university rankings were determined by weighted measures of quality, including undergraduate academic reputation, graduation and retention rates, faculty resources, student selectivity, finances, graduation rates and alumni giving.
Vanderbilt was No. 16 on the list of Great Schools at Great Prices. Vanderbilt also turned up on lists of universities strong in undergraduate research and the valuing of economic differences. For the latter category, U.S. News noted that 15 percent of undergraduates at Vanderbilt receive federal Pell grants.
High school guidance counselors rated Vanderbilt No. 11, tied with five other schools, among national universities.
Full rankings will be available Sept. 18 in the Best Colleges 2013 guidebook, published by U.S. News & World Report.