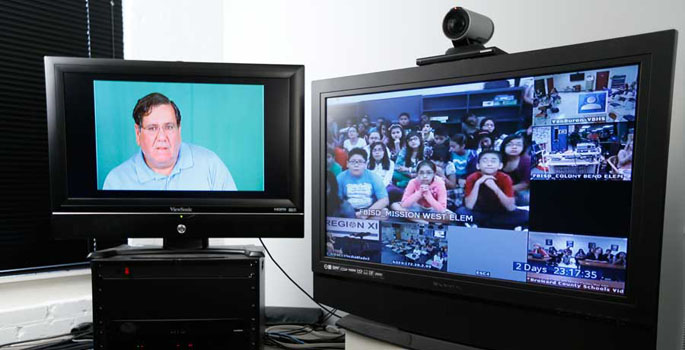 by Joan Brasher
At Vanderbilt's Virtual School, 9/11 was marked a day early with emotional presentations by a survivor of the terrorist attack on the Pentagon.
Paul Gonzales, a retired Navy commander, visited the Virtual School studio at 2007 Terrace Place where he shared his harrowing story with 14 high school classrooms from New Jersey to California via two live video conferences.
Virtual School director Patsy Partin served as moderator.
Gonzales described in detail how an ordinary day on the job in the Defense Intelligence Agency turned deadly when hijackers flew American Airlines Flight 77 into the Pentagon.
"[rquote]When we heard about the second plane hitting the towers, we knew this was not an accident," he said. "We knew it wasn't a random act."[/rquote]
But they never expected the Pentagon to be next. At 9:37 a.m., hijackers flew the 181,000-pound airplane into the building at roughly 530 miles per hour, piercing it with the intensity of a missile.
"It's hard to describe, but I heard this kind of thud, and suddenly I was being shot across the room by a fireball," Gonzales said. "All I could think was 'This is it.'"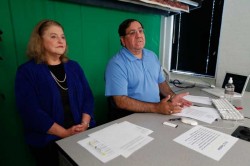 He checked to see if he still had limbs, and found that he did. Before climbing through the debris and crawling to safety, he noted that the skin on his fingertips and palms of his hands was entirely burned off. Later Gonzales would discover that he suffered many other injuries, including broken bones in his neck, neurological and brain damage, and severely burned lungs. His right lung is permanently nonfunctional.
"My wife is the bravest person I know," he said. "She's a teacher and she continued teaching the whole day not knowing if I was OK. She got a call when she got home. It was from a Navy doctor at Walter Reed military hospital  who said, 'Your husband is going to be OK.' It was then she collapsed."
Gonzales was comatose and on life support for about a week, during which he had many visitors, including former First Lady Laura Bush.
More than 50 military personnel at the Pentagon died on 9/11. "All but two of our work group were dead or in the hospital," Gonzales said. "Those who were injured came back as soon as they were released. That's the kind of people they are."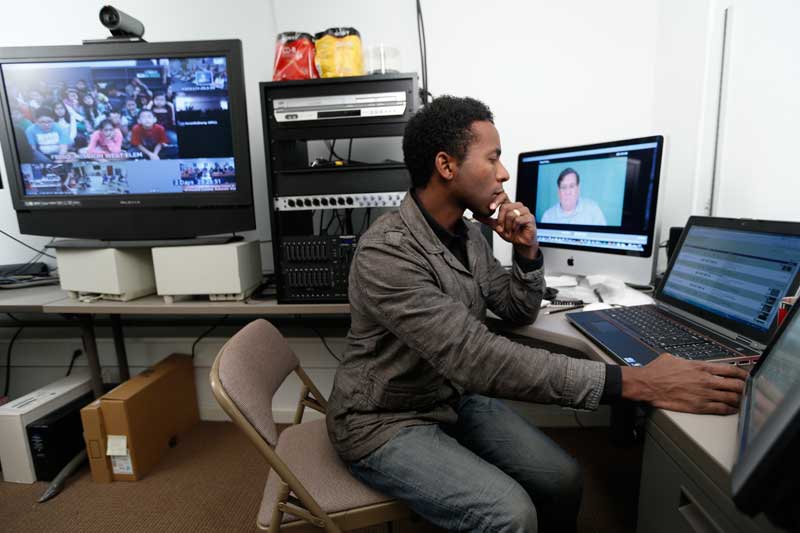 After Monday's presentation, each classroom took a turn asking questions, including how long it took him to recover from his injuries and what he learned from the experience.
"Never give up," he said. "When I was crawling through the debris, it would have been easier to give up. But I found my way out. Never, never give up."
Vanderbilt's Virtual School develops programs to integrate technologies in teaching and learning and to build virtual learning communities. It focuses on videoconferencing to enhance K-12 curriculum and teacher professional development. Working in collaboration with K-12 schools, universities, informal educators and the community, the Virtual School matches curriculum needs with national educational standards and links K-12 classrooms to resources beyond their four walls via real-time, interactive videoconferencing.
Contact: Patsy Partin, (615) 322-6384
patsy.partin@vanderbilt.edu