Christie St-John returns to Vanderbilt University, where she previously served as Director of International Relations for Owen's Admissions Department.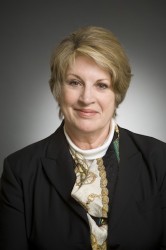 Vanderbilt University's Owen Graduate School of Management has named Christie St-John as its new director of admissions, effective Oct. 1, 2012.
St-John returns to Vanderbilt from the Tuck School of Business at Dartmouth College, where she has served as senior associate director of admissions and recruiting since 2004. St-John began her MBA admissions career at Vanderbilt in 1997, where she oversaw international recruitment.
Previously St-John held roles in marketing, as well as in oil and gas trading. A Nashville native, she holds a master's degree and Ph.D. from Vanderbilt. St-John has lived abroad and and has traveled to 70 countries for both work and pleasure.
"We are excited to welcome Christie back to Vanderbilt," said Jim Bradford, dean of the Owen Graduate School. "She combines a vast global experience with a keen understanding and appreciation of what makes a top graduate management program."
Tami Fassinger, chief recruiting officer for the Owen Graduate School, added that St-John would also play a key role in the school's larger strategy of aligning incoming student career objectives with placement results on a broad geographic scale.
"Christie's ability to relate to our global talent pool is invaluable to where we're going as a school. We're glad to have her back on our team." Fassinger said. "I hired Christie in her first tenure at Vanderbilt. We've missed her talent, as well as her international mindset and far-reaching network."
St-John will handle recruiting and admissions for the full-time Master of Business Administration and one-year Master of Finance programs.
"Vanderbilt has seen a great deal of positive momentum in recent years," St-John said. "I am pleased to have the opportunity to increase the school's reach, both in the U.S. and globally."