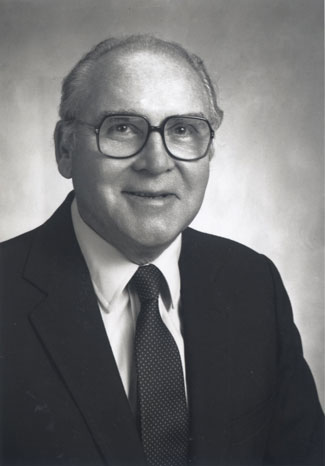 Walter Harrelson, an internationally acclaimed Old Testament scholar who previously served as dean of Vanderbilt University Divinity School, died Sept. 5 in Winston-Salem, N.C. The Distinguished Professor of Hebrew Bible, emeritus, was 92 years old and had been in hospice care.
"Walter Harrelson provided excellent leadership during a time of growth and major rebuilding of the school faculty," said James Hudnut-Beumler, dean of the Vanderbilt Divinity School and the Anne Potter Wilson Distinguished Professor of American Religious History. "He was also much loved and admired by our faculty, students and the Nashville religious community."
A memorial service for Harrelson is scheduled for 3 p.m. Sept. 23 in Wait Chapel at Wake Forest University.
Harrelson was born in Winnabow, N.C., on Nov. 28, 1919. He attended Mars Hill College before serving in the U.S. Navy during World War II. Harrelson received his undergraduate degree from the University of North Carolina before earning a doctorate in theology from Union Theological Seminar in 1953. The ordained American Baptist minister also did additional study at the University of Basel in Switzerland and at Harvard University.
Harrelson was dean of the Chicago Divinity School when he accepted the position of professor of Old Testament at Vanderbilt in 1960. He was named dean of the Vanderbilt Divinity School in 1967 and served in that position until 1975, when he resigned to devote more time to teaching and research. At that time he was named Distinguished Professor of Old Testament in the Divinity School and the Graduate Department of Religion. His broad range of areas of expertise included Jewish-Christian relations, Biblical interpretation, the study of Biblical law and prophets, and the churches' response to social issues.
During the early 1970s, he initiated an extensive project to preserve the treasures of the Church of Ethiopia through the vast microfilming of manuscripts in churches and monasteries. The goal was to help preserve some 16 centuries of religious history and tradition. At the time, Harrelson noted that the papers had tremendous significance for the understanding of Judaism and Jewish-Christian relations. The Walter Harrelson Papers at Vanderbilt University Special Collections include his work on the Ethiopian Manuscript Microfilm Library as well as many other papers from his classes and career at Vanderbilt.
Harrelson's numerous leadership posts included president of the Society of Biblical Literature and chairman of the Society for Religion in Higher Education. He was one of the major leaders of theological education in the United States and Canada with roles such as chair of the Task Force on Academic Freedom of the American Society of Theological Schools.
Vanderbilt awarded him three university-wide recognitions: Harvie Branscomb Distinguished Professor, Thomas Jefferson Award and Alexander Heard Distinguished Service Professor.
In 1990 Harrelson became Distinguished Professor of Hebrew Bible, emeritus, and a scholarship was established at Vanderbilt in his name. Harrelson remained active in academic and community pursuits, including his work with Rabbi Randall Falk to increase dialogue and understanding between Christians and Jews. They also co-authored two books, Jews and Christians: A Troubled Family and Jews and Christians in Pursuit of Social Justice, and teamed up to teach a seminar in various cities, including Nashville, on the topic.
Harrelson also was among a select group of scholars of the Hebrew Bible to produce the New Revised Standard Version of the Bible in 1990.
A volume of essays by colleagues in this country and abroad was published and presented to him in 1989, Justice and the Holy: Essays in Honor of Walter Harrelson, edited by Vanderbilt professor Douglas A. Knight and former professor Peter J. Paris.
"Walter was one of the more influential Biblical scholars in the country during the second half of the twentieth century," said Knight, the Drucilla Moore Buffington Professor of Hebrew Bible and Professor of Jewish Studies. "Like many others, I benefited from his mentoring during the early part of my career. He modeled the role of a scholar who contributes significantly to his field while also remaining a key citizen of the university, a teacher of countless scholars and ministers, and a leader in the wider community. We will miss him."
In the mid-1990s, Harrelson was asked by Wake Forest University to guide the development of its proposed divinity school. He became a professor of religion at Wake Forest until his (second) retirement.
Harrelson was predeceased by his wife, Idella Aydlett Harrelson. He is survived by a daughter, Marianne Harrelson McIver, and two sons, David Aydlett Harrelson and Robert Joseph Harrelson. All three children are graduates of Vanderbilt. There are also six grandchildren and two great-grandchildren.