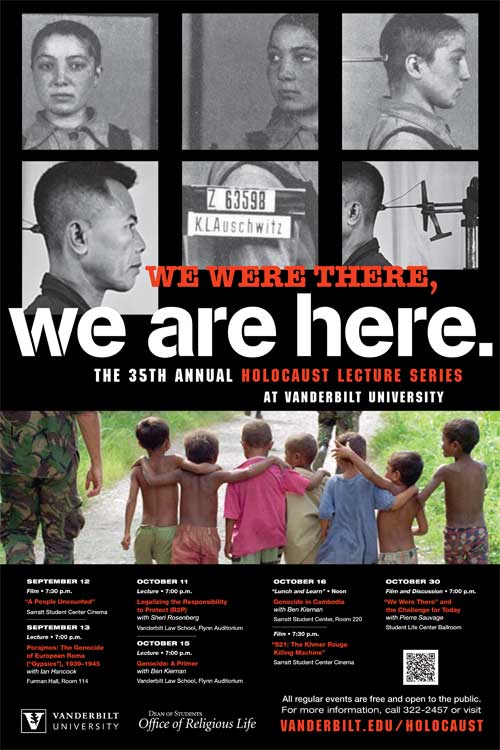 "We Were There, We are Here," the 35th annual Holocaust Lecture Series at Vanderbilt University, will examine the enduring saga of genocide with events scheduled throughout September and October.
Vanderbilt's is the longest continuous Holocaust lecture series at an American university.
"This year we will examine not only the importance of educating ourselves about humanity's acts of extreme violence against its own, but also raise the issue of whether we are willing to rise above moral indignation alone and actively help people persecuted by ethnic cleansing and genocide in our own time," said Shaiya Baer, who is chairing the series with student co-chairs Shelby Begany and Veta Greenstone, seniors in the College of Arts and Science.
All of the events, which are sponsored by the Office of Religious Life, are free and open to the public. Podcasts of selected events will be posted at Vanderbilt's news site.
Noted expert Ben Kiernan, who studied genocide for more than three decades, will address "Genocide: A Primer" Oct. 15 at 7 p.m. in the Vanderbilt Law School's Flynn Auditorium. Kiernan is the author of Blood and Soil: A World History of Genocide and Extermination from Sparta to Darfur, which won the 2008 gold medal for the best book in history awarded by the Independent Publishers Association. He teaches at Yale University, where he is the Whitney Griswold Professor of History, professor of international and area studies and chair of the Genocide Studies Program.
On Oct. 16, Kiernan delivers the noon talk "Genocide in Cambodia" in Sarratt Student Center, Room 216/220. Lunch will be provided for the first 20 guests. Kiernan founded the award-winning Cambodian Genocide Program at the Yale Center for International and Area Studies and the center's comparative Genocide Studies Program. He is the author of more than 100 scholarly articles on Southeast Asia and genocide.
Other events include:
Sept. 12, 7:30 p.m. – The film A People Uncounted tells the story of The Roma, commonly referred to as Gypsies, a people who have been both romanticized and vilified in popular culture. Having endured centuries of intolerance and persecution in Europe, the film exposes the tragedy of Europe's largest minority group. Sarratt Student Center Cinema
Sept. 13, 7 p.m. – Ian Hancock, a Romani scholar and political advocate, will speak on "Porajmos: The Genocide of European Roma ("Gypsies"), 1939-1945." Born and raised in England, Hancock is one of the main contributors in the field of Romani studies. He serves as director of the Program of Romani Studies and the Romani Archives and Documentation Center at The University of Texas at Austin, where he has also been a professor of English, linguistics and Asian studies since 1972. He has represented the Romani people at the United Nations and served as a member of the U.S. Holocaust Memorial Council. Furman Hall, Room 114
Oct. 11, 7 p.m. – Sheri Rosenberg, director of the Human Rights and Genocide Clinic at Yeshiva University's Benjamin N. Cardozo School of Law, will lecture on "Legalizing the Responsibility to Protect (R2P)." She will offer perspective on what standard the international community should apply in determining when to intervene in a human rights crisis and what steps should be employed before considering the use of military force. Flynn Auditorium, Vanderbilt Law School
Oct. 16, 7:30 p.m. – The film S21: The Khmer Rouge Killing Machine documents the detention center code named "S21," a schoolhouse turned prison where 17,000 men, women and children were tortured and killed. "S21" was part of an agrarian utopia imagined and created by the Khmer Rouge. From 1975 to 1979, almost two million Cambodians lost their lives to murder and famine when the Khmer Rouge forced the urban population into their idealized community in the countryside. Sarratt Student Center Cinema
Oct. 30, 7 p.m. – Pierre Sauvage, documentary filmmaker, Holocaust survivor and founder of the Chambon Foundation, will screen his documentary We Were There: Christianity and the Holocaust and then discuss the challenges it presents to society. In the film, he explores Christian rescue during the Holocaust and the Christian share of responsibility for the crime through three distinct interconnected short films. Vanderbilt Student Life Center Ballroom