Media Inquiries
Latest Stories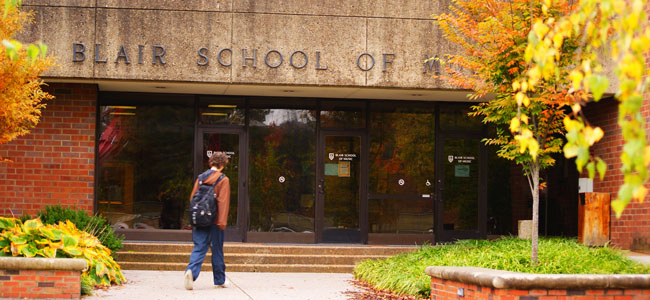 Welcome back to another amazing semester of concerts at the Blair School of Music!
We kicked off our Fall 2012 concert season with a capacity crowd for our 150th birthday tribute to Claude Debussy — a delightful evening of piano music from our students to kick off the year, and to benefit local homeless advocacy organization Room in the Inn.
September will be even more action-packed, starting with a special Music on Film presentation.
Two important schedule notes: Unfortunately, the Nightcap concert that was originally scheduled for Sept. 24 has been CANCELED. Please update your concert calendars. Also, please note that the Blair Chamber Choir concert on Sept. 29 will be held in Steve & Judy Turner Recital Hall.
As always, events at Blair are free and open to the general public unless specifically stated otherwise, and there's plenty of free parking after 5 p.m. and on weekends in the West Garage, directly across the street from the school.
We hope you'll join us at a Blair concert soon!
September
Music on Film: Cecil B. DeMille's Carmen (1915), starring soprano Geraldine Farrar

Sunday, Sept. 9, 7 p.m.
Steve and Judy Turner Recital Hall
Why make a silent film based on an opera? Why cast a world-renowned singer in the title role if the audience can't hear her sing? What did the audience hear when they attended this film in a movie house in 1915? Paul Young, Associate Professor of English and Film Studies, and Joy Calico, Associate Professor of Musicology, will introduce this screening of DeMille's iconic film (63 minutes), and lead discussion afterward. Co-sponsored by the Film Studies Program and presented in conjunction with the Performing Arts Exhibit currently on display in the lobbies of Blair's Ingram Hall and the Jean and Alexander Heard Library.
Copies of the DVD will be available for purchase after the screening.
Film presented by permission of VAI (vaimusic.com)
Faculty Recital: Craig Nies, piano; Felix Wang, cello

Wednesday, Sept.12, 8 p.m.
Steve and Judy Turner Recital Hall
The Russian repertoire takes center stage at Blair with the combined talents of cellist Felix Wang and pianist Craig Nies on cello sonatas by Shostaovich and Rachmaninoff. The Shostakovich Sonata, which opens with one of his most soulful melodies, combines white-hot intensity with tender and playful lyricism. Rachmaninoff's melodic gift was at its peak in his cello sonata, with stirring virtuosity. Sponsored by Delphine and Ken Roberts
Vanderbilt University Orchestra, Robin Fountain, conductor, and Vanderbilt Wind Symphony, Erin Perez, conductor
Friday, Sept. 14, 8 p.m.
Ingram Hall
The pride of the Blair School's collegiate program present an engaging instrumental evening. The Vanderbilt University Orchestra presents Rimsky-Korsakov's Scheherazade, a dazzling, colorful, Eastern-inspired orchestral work that's widely considered the composer's most popular. The Vanderbilt Wind Symphony, meanwhile, presents a program titled "Wind Band Classics: Yesterday, Today and Tomorrow."
Jazz on the Move: A Tribute to The Weather Report, featuring drummer Chester Thompson
Sunday, Sept. 16, 3 p.m.
Steve and Judy Turner Recital Hall

Nashville Jazz Workshop and Blair present this special edition of NJW's Jazz on the Move lecture and performance series featuring legendary jazz drummer Chester Thompson. Thompson was a touring drummer with Genesis for 30 years, also working extensively with Phil Collins, Frank Zappa, Steve Hackett and many more. But at this lecture and concert, Thompson's jazz work is front and center, as Thompson speaks about his time in the '70s as a member of seminal free jazz ensemble The Weather Report. Thompson and an assortment of Nashville's finest jazz players will pay musical tribute to The Weather Report, as well. The history of jazz, in story and song! Presented by the Blair School of Music and Nashville Jazz Workshop, with funding for Nashville Jazz Workshop provided by The Frist Foundation
Lecture & Master Class: Dean Southern, baritone

Thursday, Sept. 20
Presentation: 1:10 p.m., Steve and Judy Turner Recital Hall
Master class: 6 p.m., Choral Hall
Baritone Dean Southern is a member of the voice faculty at the Cleveland Institute of Music who has performed in opera, oratorio and recitals around the world, including New York's Carnegie Hall, Washington D.C.'s Kennedy Center and the Festival dei Due Mondi in Spoleto, Italy. At Blair, he'll present his acclaimed program "Distant Voices: Listening to Singers of the Past," a multimedia "guided tour" through the first half-century of recorded vocal music. Later the same day, he'll conduct master classes with Blair voice students. Though the programs are targeted mainly at undergraduate students, the general public is welcome to attend.
Guest Artists: The Saint Louis Brass Quintet
Wednesday, Sept. 26, 8 p.m.
Ingram Hall
Allan Dean, trumpet
Ray Sasaki, trumpet
Thomas Bacon, horn
Melvyn Jernigan, trombone
Daniel Perantoni, tuba
Founded in 1964, the Saint Louis Brass Quintet is one of America's longest-standing brass quintets. The group was originally formed by members of the St. Louis Symphony to play children's concerts around the St. Louis area. Soon, though, they expanded to present full-length concerts funded by the National Endowment for the Arts, the Missouri Arts Council and the Mid-America Arts Alliance. Now, 40 years and more than 2,500 engagements later, the only original member still in the group — and the only one who actually lives in St. Louis — is trombonist Melvyn Jernigan. The other quintet members hold top positions across the United States, and none of them are members of the St. Louis Symphony. The members of the quintet will also conduct master classes with Blair brass students 8 a.m.-6 p.m. Wednesday, Sept. 26, in Ingram Hall. These sessions are also open to the public.
Sponsored by the Sartain Lanier Family Foundation
Blair Chamber Choir: Tucker Biddlecombe, conductor
Saturday, Sept. 29, 8 p.m.
Steve and Judy Turner Recital Hall
Blair's new Director of Choral Activities, Tucker Biddlecombe, leads the Chamber Choir in an intimate evening of folksongs, partsongs and artsongs by Johannes Brahms, Francis Poulenc and Moses Hogan.
Contact: Kristin Whittlesey, (615) 322-7656
kristin.whittlesey@vanderbilt.edu