Rear Adm. Nora Tyson to receive Distinguished Alumni Award
by
Matt Anderson
Sep. 5, 2012, 3:24 PM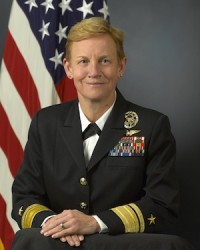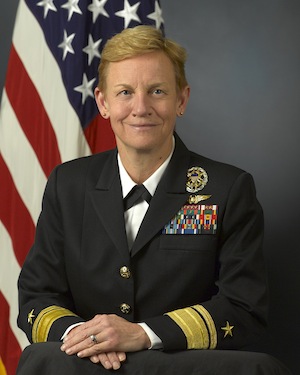 Rear Adm. Nora Tyson (BA'79), the vice director of the Joint Staff and first female commander of a U.S. Navy carrier strike group, is the recipient of the highest honor for a member of the Vanderbilt alumni community: the Distinguished Alumni Award.
Established in 1996 by Vanderbilt's Alumni Association, the award recognizes an alumnus/alumna whose accomplishments and contributions have had the broadest impact and positive effect on mankind.  Recipients of the Distinguished Alumni Award are celebrated for going beyond their successful vocation and bringing benefit to the universal community.
Tyson, a two-star admiral, became the vice director of the Joint Staff in Washington, D.C., in February 2012. She is the former commander of the U.S. Navy's Carrier Strike Group Two, where she led 80 combat aircraft and 13 ships, including her flagship, USS George H.W. Bush.
"Vanderbilt alumni make significant contributions in communities big and small across the globe," said Chancellor Nicholas S. Zeppos. "What Rear Admiral Tyson has accomplished and what she stands for in the United States and internationally brings great distinguishment to this university. Whether she is leading her troops or engaging in international diplomacy, Tyson's leadership reveals a sincere interest in the welfare of others. Her pioneering role as the first female commander of a U.S. Navy carrier strike group is an inspiration to the entire Vanderbilt community."
"Nora Tyson's contributions to our country and her leadership style, based on personal relationships, represent the best of Vanderbilt," remarked Carroll Kimball BA'84, president of the Vanderbilt University Alumni Association. "I am proud to name her as a recipient of the highest honor for our alumni."
Prior to taking command of Carrier Strike Group Two, Tyson was commander of Task Force 73 and Commander, Logistics Group Western Pacific in Singapore. She also commanded the amphibious assault ship USS Bataan, where she led the Navy's contributions to humanitarian assistance/disaster relief after Hurricane Katrina, as well as two deployments to the Persian Gulf in support of Operations Iraqi Freedom, Enduring Freedom, and New Dawn.
Tyson's other assignments in her naval career include three tours in Fleet Air Reconnaissance Squadron (VQ) 4,including one as commanding officer, stints as assistant operations officer aboard USS Lexington and as navigator aboard USS Enterprise, and several tours of duty on both the Joint Staff and the Navy Staff in Washington, D.C.
A native of Memphis, Tenn., she attended Officer Candidate School in Newport, R.I., after graduating from Vanderbilt University in 1979, and received her commission in the U.S. Navy in December 1979. Tyson earned her wings as a naval flight officer in 1983. Among her many honors, she has been decorated with five  Legion of Merit awards. She and her husband, Wayne Tyson, reside in Williamsburg, Va., and Arlington, Va.
Tyson will officially receive the award during a ceremony held during Vanderbilt's 2012 Reunion, October 25-27.