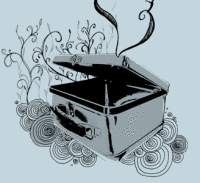 Ndume Olatushani and Anne-Marie Moyes will discuss "Coming Back to Life: One Man's Story of Wrongful Conviction" when Thinking Out of the (Lunch) Box: Conversations with a Philosophical Flavor with David Wood resumes Sept. 5.
Each talk at the Nashville Public Library, which begins with lunch at 11:30 a.m., is hosted by David Wood, W. Alton Jones Professor of Philosophy at Vanderbilt and founder of the series. "In Thinking Out of the (Lunch) Box, the ivory tower comes down to the market square," Wood said. "Through these conversations, some of the liveliest Vanderbilt professors and others discuss their work with the Nashville community."
The Sept. 5 talk, which was put together by Vanderbilt Assistant Professor of Philosophy Lisa Guenther, concerns the wrongful conviction of Olatushani for capital murder in 1985. Although his death sentence was overturned, he was at risk of spending the rest of his life in prison. Moyes, who is a Vanderbilt Law School graduate, met Olatushani while she was working for an organization opposed to the death penalty. She became his strongest advocate and conducted an investigation that uncovered new evidence of his innocence. She and Ndume were married shortly after his release this year.
Future (Lunch) Box topics include "Occupy: The Myth and the Movement" Oct. 3 with Dana Nelson, the Gertrude Conaway Vanderbilt Professor of English and author of Bad for Democracy: How the Presidency Undermines the Power of the People. In November the focus will be on "Visions of the Future" and December's topic is "Food Politics," with details to be announced later.
A few changes have been implemented since the Vanderbilt Philosophy Department took over as co-host with the Friends of the Nashville Public Library. Reservations are no longer necessary. Interested individuals just show up at the library, located at 615 Church St.
Box lunches will be available, starting at 11:30 a.m., for the first 200 people to arrive. A voluntary donation of $5 is requested per lunch to help defray expenses. Lunch will continue to be in the library's auditorium, but the conversation moves to the main lecture theater across the hall from noon to 1 p.m.
For more information, contact David Wood at david.c.wood@vanderbilt.edu or Lisa Guenther at lisa.guenther@vanderbilt.edu.