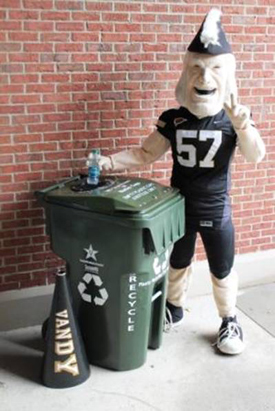 Recycling will be available at Vanderbilt football's season opener against South Carolina Aug. 30 and at all home games this year. The Sustainability and Environmental Management Office (SEMO), Students Promoting Environmental Awareness and Responsibility (SPEAR) and Vanderbilt Athletics are teaming up to collect plastic, aluminum cans and cardboard again this season. In addition, Vanderbilt is partnering this year with Waste Management, Inc. to collect all recyclable plastics (numbers 1-7).
Tips to minimize waste while tailgating:
Bring reusable food containers, utensils, plates and cups

Bring items that have as little packaging as possible
Bring only what food and beverages you need for your tailgate; try to minimize leftovers
Take home and reuse the commemorative Commodore cups from the concession stand
Recycle all plastics (numbers 1-7) and aluminum cans in bins located on the concourse, at the gates and near every tailgate area, or give them to the recycling staff
Bring six bottles or aluminum cans to the Waste Management booth in Vandyville and win a prize
One lucky Commodore fan that gets caught "green handed" recycling during tailgating will win a premium souvenir autographed by head football coach James Franklin. So show your Vanderbilt pride, anchor down and tackle recycling.
Volunteers who want to help with recycling efforts at football games should contact SEMO at recycle@vanderbilt.edu or (615) 343-7284. For more information about Vanderbilt's recycling and sustainability programs, visit the SustainVU website.
Contact: SEMO, (615) 322-9022
SustainVU@vanderbilt.edu