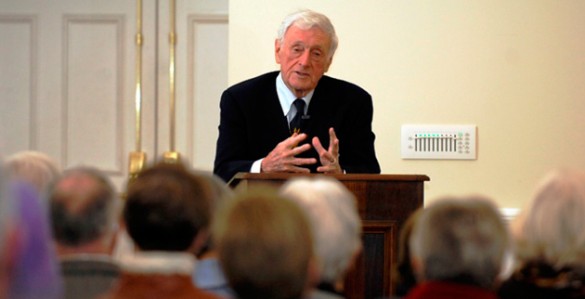 Contemporary debates in criminal justice, the impact of rhythms and music among different cultures, and democracy in America are among the diverse classes offered by the Osher Lifelong Learning Institute at Vanderbilt this fall.
Other courses will focus on social media and digital technology, the Big Apple from 1870 to 1910, the Book of Psalms, German Expressionism and recent medical advances from doctor and patient perspectives.
Meet the faculty and learn more about the Osher classes at the fall kickoff Sept. 4 from 5 to 7 p.m. at Vanderbilt's Central Library. A cocktail reception on Library Lawn will follow the program. The cost is $20 per person.
For the first time, online registration is now available for Vanderbilt's Osher Lifelong Learning courses. The non-credit classes are open to all adults 50 and older who want to pursue lifelong learning through lectures and discussions in a relaxed, supportive environment. Deadline for fall registration is Sept. 14.
The following courses are scheduled:
"The Rhythm of Life and Music," taught by Beth Gottlieb, percussionist in Gary Sinise's Lt. Dan Band and former music professor. She will help students develop an appreciation and understanding of music and rhythms from many different cultures. The class, which meets at St. George's Episcopal Church, 4715 Harding Road, includes basic rhythm instruction using a variety of percussion instruments. Classes begin Oct. 1 and run for six consecutive Mondays from 9:30 to 11:30 a.m.
"The Agony and Ecstasy of Religious Belief: The Book of Psalms," taught by James Crenshaw, the Robert L. Flowers Professor of Old Testament, Emeritus, Duke University. A full range of human emotions is found in the Book of Psalms. This class will examine both the beauty and the anguish of ancient psalms, biblical and extra-biblical. The class meets for six consecutive Tuesdays, beginning Oct. 2, from 9:30 to 10:45 a.m. at Belle Meade United Methodist Church, 121 Davidson Road.
"New York City from the Gilded Age to the Progressive Era," taught by Sam McSeveney, professor of history, emeritus, will examine the Big Apple from the 1870s to the 1910s, a half century marked by the city's territorial expansion and five-fold population increase. The class will meet from 11 a.m. to 12:15 p.m. at Belle Meade United Methodist Church for six consecutive Tuesdays beginning Oct. 2.
"Contemporary Debates in Criminal Justice" will be taught by Chris Slobogin, the Milton Underwood Professor of Law and director of the Criminal Law Program at Vanderbilt Law School. Topics include the death penalty, insanity defense, interrogation practices, government surveillance and preventive detention and sentencing. The class, which starts Oct. 3, meets for six consecutive Wednesdays from 9:30 to 10:45 a.m. on campus at the Commons Center, 230 Appleton Place.
"Religion and Health: Pitfalls and Possibilities" will be taught by Dr. Keith Meador, professor of psychiatry and preventive medicine and director of the Center for Biomedical Ethics and Society. Meador, who also has an appointment in the Graduate Department of Religion, will review the historical context and current research and conversations regarding religion and health in American culture. In addition, the class will discuss the significance and implications of the current "therapeutic culture" and how the religion and health conversation interacts with this phenomenon. The class meets for six Wednesdays, beginning Oct. 3 from 11 a.m. to 12:15 p.m., at the Commons Center.
"German Expressionism," which is being offered in partnership with the Frist Center for the Visual Arts, looks at a pioneering modernist movement that touched the visual arts, cinema, theater, design and music during the early decades of the 20th century. This course is coordinated by Patricia Ward, professor of French and comparative literature, emerita, and will include faculty members Leonard Folgarait, professor of history of art; Helmut Smith, the Martha Rivers Ingram Professor of History; and Peggy Setje-Eilers, assistant professor of German. The class meets for six consecutive Thursdays, starting Oct. 4 from 9:30 to 10:45 a.m., at the Commons Center. Additional lectures and discussions will be available at the Frist Auditorium.
"Social Media and Digital Technology," taught by Gene Policinski, vice president and executive director of the First Amendment Center, will meet for six consecutive Thursdays, starting Oct. 4,from 11 a.m. to 12:15 p.m., at the Commons Center. Topics to be examined include the role of social media in education and politics and how will the general public will receive news and information five years from now.
"Medical Advances," taught by six Vanderbilt physicians, will highlight extraordinary patient stories and advances that include removing previously inoperable brain tumors. The course meets for six Fridays, starting Oct. 5 from 9:30 to 10:45 a.m., at the John Seigenthaler Center, 1207 18th Ave. S.
"Alexis de Tocqueville's Democracy in America, taught by Professor of Philosophy Lucius Outlaw Jr., will take a critical look at the founding principles, conditions, customs, habits and practices that defined and gave shape and direction to the development of the United States as a purportedly "democratic" nation-state. The material will include a historically informed reading of Democracy in America. The class will meet for six Fridays, starting Oct. 5 from 11 a.m. to 12:15 p.m., at the John Seigenthaler Center.
In addition to the classes, a seminar on wellness will be offered at the Vanderbilt Dayani Center for Health and Wellness while a writing seminar taught by Victor Judge, lecturer at the Vanderbilt Divinity School, will take place at the Cathedral of the Incarnation. There are a limited number of spaces available for each seminar.
Annual membership dues are $10 per person. The charge for the fall term classes is $80 and enables the participant to sign up for one to three classes. Additional classes beyond three are $10 per course. Membership benefits include field trips and monthly "Lunch and Learn" sessions.
To sign up for classes and/or the fall kick-off, visit www.vanderbilt.edu/olli.
For more information, contact Norma Clippard, program director: norma.clippard@vanderbilt.edu or 615-343-0700.