Prints and poetry unite for 'Material Glance,' through Sept. 27
Aug. 13, 2012, 1:38 PM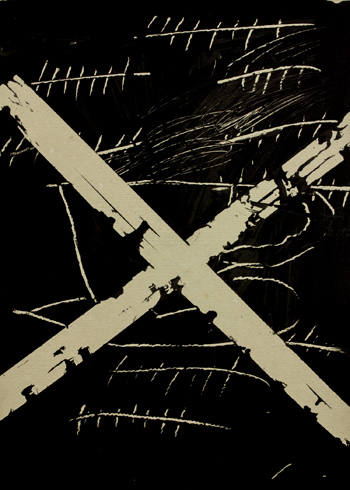 Material Glance: A Portfolio of Lithographs by Antoni Tàpies and Poems by Shūzō Takiguchi continues at the Vanderbilt Fine Arts Gallery through Sept. 27.
Published in 1975, Material Glance (Llambrec Material) brings together two important creative figures of the 20th and 21st centuries: Antoni Tàpies (1923-2012), one of the most universally recognized Spanish artists to emerge in the post-World War II era; and Shūzō Takiguchi (1903-1979), the Japanese writer, critic and proponent of avant-garde art.
Writer and artist shared an interest in surrealism. Takiguchi was responsible for introducing surrealism to Japan in the late 1920s through his writings, and Tàpies was one of the founders in 1948 of Dau al set, the avant-garde surrealist and Dada-influenced artistic literary group and magazine of the same name. Although Tàpies is best remembered for his paintings, he was also an accomplished printmaker, and his collaborations with writers such as Takiguchi are considered to have produced some of his most innovative work in the print medium.
For Material Glance, Takiguchi sent poems written in Japanese characters to Tàpies, who was responsible for creating the book. The artist's choice of paper – a warm-toned, tan-colored Catalan estrassa paper used by butchers to wrap meat, with its irregular fiber echoing hand-made Japanese paper – activates Tàpies' aggressive, calligraphic line when the prints are viewed with Takiguchi's poems. The physicality of the poetry, which describes interior worlds merging with exterior realities, is particularly sympathetic with Tàpies' practice and sensibility.
"The play of language against the visual world of Antoni Tàpies, one of the artistic giants of our time who just recently died, is remarkable – each contributing to the other's unique vision," said Joseph Mella, director of the Fine Arts Gallery and curator of the exhibition.
The exhibition will include other works by Tàpies from the Fine Arts Gallery's collection, and, as with this portfolio, many will be on view for the first time.
The Vanderbilt Fine Arts Gallery is located in Cohen Memorial Hall, 1220 21st Ave. S., on the western edge of the Peabody College campus. All events are free and open to the public.
Starting Wednesday, Aug. 22, the Fine Arts Gallery will resume normal hours for the 2012-13 academic year. They are: noon-4 p.m., Monday-Friday; noon-8 p.m., Thursday; and 1-5 p.m., Saturday and Sunday.
Contact: Amy Bridgeman, (615) 343-1702
amy.n.bridgeman@vanderbilt.edu