Acclaimed painter and printmaker to open StudioVU series
Aug. 13, 2012, 10:46 AM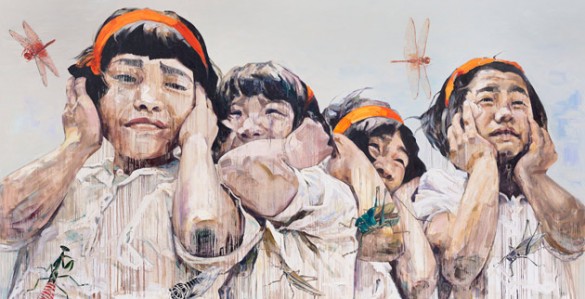 Acclaimed painter and printmaker Hung Liu will open the 2012-13 season of StudioVU: The Department of Art Lecture Series on Wednesday, Sept. 19. Liu will lecture on her work from 7 to 8:30 p.m. in Wilson Hall, Room 103.
Liu's artistic talent has twice garnered her National Endowment for the Arts fellowships, and her work has been exhibited in major museums throughout the world.
Working from historical Chinese photographs, she challenges the viewer to re-examine the depicted moment through her more reflective process of painting. Much of the meaning in Liu's painting comes from the way the washes and drips dissolve the documentary images, suggesting the passage of memory into history, while working to uncover the cultural and personal narratives fixed – but often concealed – in the photographic instant. "I want to both preserve and destroy the image," she has written. In effect, Liu turns old photographs into new paintings.
In addition to her two National Endowment for the Arts fellowships in painting, Liu also received a Lifetime Achievement Award in Printmaking from the Southern Graphics Council International in 2011. Her works have been exhibited extensively and collected by the San Francisco Museum of Modern Art; the Whitney Museum of American Art, New York; the Metropolitan Museum of Art, New York; the National Gallery of Art, Washington, D.C.; the Asian Art Museum of San Francisco; and the Los Angeles County Museum, among others. A retrospective of Liu's work will open in February 2013 at the Oakland Museum of California.
A professor of art at Mill College in Oakland, Calif., for the past 20 years, Liu was formally educated in both China and the United States, immigrating here in l984.
All StudioVU lectures are free and open to the public. For more information on Liu's lecture or the StudioVU series, contact the Department of Art.
Contact: Diane Acree, (615) 343-7241
diane.acree@vanderbilt.edu