Media Inquiries
Latest Stories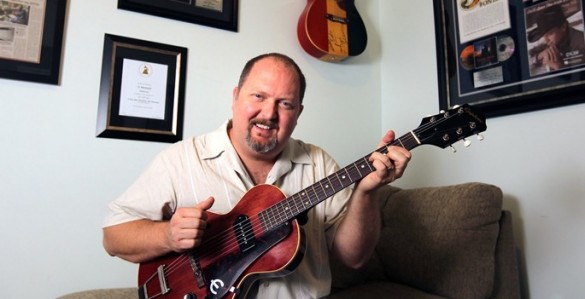 A Nashville songwriter responsible for No. 1 records by George Strait, Lee Ann Womack and Gary Allan is showing aspiring songwriters the Music Row ropes in a class at Vanderbilt University.
The class, "Nashville Number System for Songwriters/Performers," at Vanderbilt's Blair School of Music, is ostensibly about learning a shorthand musical notation system used by musicians in Nashville recording studios. But songwriter/instructor Odie Blackmon sees it as an opportunity to teach "how music works," from the conception of a song through the recording process.
"Most semesters I'm able to arrange for the class to come in the studio as I demo a new song and watch the real pros lay it down," said Blackmon, whose hit songs include "She'll Leave You with a Smile" by Strait. "I love seeing that light switching on in my student's eyes when they see it all coming together."
The class was born when Blackmon met Mark Wait, dean of the Blair School of Music, during an educational seminar.
"Mark has made Blair a school that reaches outward into the community," Blackmon said. "Since the class started a couple of years ago, I've had a 14-year-old, adults and, of course, college students."
The class studies classic songs, showing for instance what "Subterranean Homesick Blues" by Bob Dylan shares in common with the Tone Löc novelty hit "Wild Thing." It pays particular attention to the songs of the Beatles because Blackmon believes "they kind of wrote the book when it comes to popular music.
"They started in basic rock 'n' roll and they tried everything, every song form," he said. "They did everything when it comes to popular music."
Blackmon has also released an instructional DVD on songwriting, The Craft of Writing Hit Songs," and has frequently led workshops on the topic for Nashville Songwriter's Association International.
The "Nashville Number System for Songwriters/Performers" class will be offered during the fall 2012 semester. For enrollment information, see the Blair School of Music pre-college and adult program website.