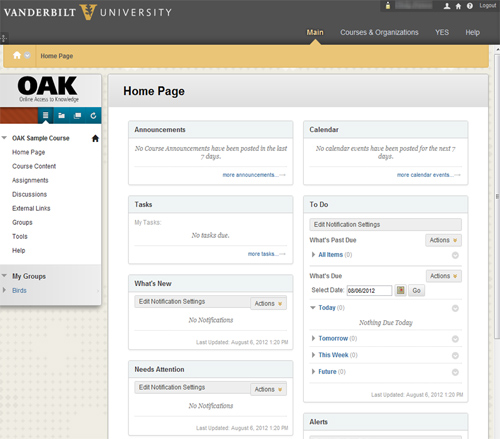 OAK (Online Access to Knowledge), Vanderbilt's course management system, is expanding its current functionality to provide additional services and customizations and to make course delivery and management more efficient. The updated version of OAK debuts Sunday, Aug. 12.
The improvements are the result in part of requests made by Vanderbilt's schools and student leaders. Over time, adjustments will be made to ensure that OAK continues to address the needs of the university that fall within the capabilities of its software.
Powered by Blackboard Learn, Vanderbilt added the "Community Engagement" system to the "Course Delivery" system to achieve these goals. In part, OAK will gain the ability to separate official courses from supporting content areas (these areas will be called "organizations" in the future); direct communication and information presented to targeted audiences; and increase ability to manage the system behind the scenes.
OAK Support and supporting departments have worked closely to develop a timeline for implementation that is least disruptive to the Vanderbilt community. In December 2011, software installation and configuration began. Customizations are coming Aug. 12, and varying pieces of functionality will come online throughout the academic year.
More about the implementation timeline:
What has been done already?
Increased the number of application servers

Moved the database to a more stable environment
Upgraded to Blackboard Learn Release 9.1 Service Pack 8 (a list of changes can be found online)
Updated system configurations in preparation for the upcoming changes
What will you see Sunday, Aug. 12?
Updated interface that reflects a softer, more modern design with a new color scheme

"Courses" tab renamed "Courses & Organizations"
"YES" tab that links directly to YES (Your Enrollment Services) when logged in with a VUnetID
"Help" tab to request help for OAK quickly
What can you expect in the coming months?
School of Nursing and School of Medicine pilot program (will begin late-August)

Tab to library resources and library account when logged in with a VUnetID
"Organizations" section for content in OAK not related to official courses (current "courses" will be gradually converted to "organizations")
A new "Training" section for faculty with handouts for common tasks
"Main" tab will contain informational modules instead of links to courses
Course enrollment updated in near real-time
A better way to upload and stream media files.
The main OAK website contains news, a list of upcoming down times, help contacts for each of the schools, downloadable help sheets, and an FAQ (self-help) section. Many questions can be answered by visiting the site.
Contact: Cindy Franco, (615) 343-5179
cindy.franco@vanderbilt.edu