Media Inquiries
Latest Stories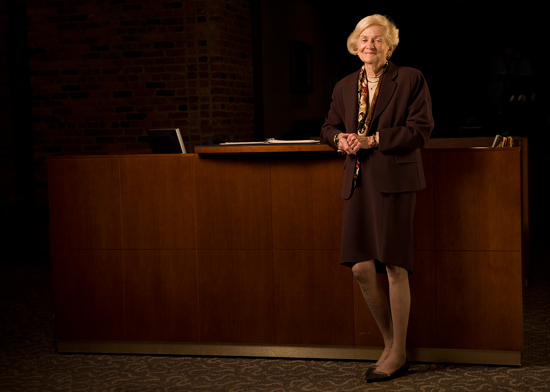 Mary McClure Taylor, beloved Vanderbilt University receptionist who left a lasting impression of warmth, grace and compassion on generations of students and others who visited Kirkland Hall, died Aug. 5 after a short illness. She was 81.
"Mary symbolized the living heart of Vanderbilt," said Chancellor Nicholas S. Zeppos. "She welcomed thousands of visitors to the university with utter charm and grace. She was an easer and a facilitator with students, faculty and staff all tangent to her magnetic circle. [rquote]Everyone loved Mary because she herself was so loving."[/rquote]
Taylor was born March 5, 1931, in Cleveland, Ohio. Her family moved to Nashville when she was very young. Her father, Dr. Christopher C. McClure Sr., was founder and chair of the Department of Radiology at Vanderbilt University Medical Center. Taylor's love for Vanderbilt began at a young age. She attended Peabody Demonstration School and would cross 21st Avenue to go to his office after school.
After high school Taylor enrolled in Vanderbilt's College of Arts and Science, where she majored in sociology and minored in political science. She was a member of Alpha Omicron Pi. In a 2002 Vanderbilt Register article, Taylor said that she never thought of going anywhere else. She earned her bachelor's degree in 1952.
Taylor's strong devotion to Vanderbilt led to her work on campus in areas that included alumni and development, news and public affairs, and university publications, where she served as an assistant editor for eight years.
In 1986, then-Chancellor Joe B. Wyatt named Taylor, who then had worked at Vanderbilt for 31 years, to the newly created position of university receptionist.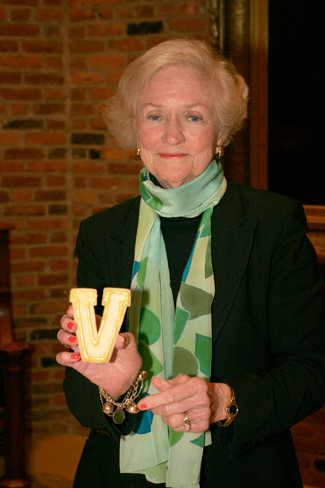 "A principal design objective for the renovation of Kirkland Hall was to restore the original lobby space to an open, inviting and informative setting for all who came to visit the university," said Wyatt, chancellor emeritus. "Central to that vision would be a special person to receive and welcome those who came; a graduate thoroughly knowledgeable about Vanderbilt present and past; a person who would cause each visitor to recall Vanderbilt as a special place in personal terms. Mary McClure Taylor made the vision become a reality in every way imagined, and in so many more."
A 1986 Vanderbilt Register article to announce her new role noted that "… she may well be the first person visitors to Vanderbilt speak to, and she knows she has been entrusted to make sure 'the first impression is the lasting impression.'"
Taylor's many Vanderbilt connections included her father and brother, Dr. Christopher C. McClure Jr., both of whom graduated from the School of Medicine. In addition, her late husband, Robert Campbell Taylor, earned his undergraduate and law degrees from Vanderbilt. They were married in 1995, shortly before his death.
In September 2006, then-Chancellor Gordon Gee announced that the Kirkland lobby would be dedicated to Taylor. At the time, Taylor reminisced that she had seen numerous prominent people come through Kirkland, including Condoleezza Rice, Tom Brokaw, Dan Quayle and Larry King. During one of Brokaw's visits, Taylor remembered that she "… saw Tom Brokaw passing by, and I ran down the steps and flagged him down to ask him to sign our guest book."
In a 2011 article in the Arts and Science magazine, Taylor said that she had the unusual distinction of knowing six out of Vanderbilt's eight chancellors. Oliver Carmichael was a friend of her father's. Harvie Branscomb was chancellor while she was a student. Taylor worked for chancellors Alexander Heard, Wyatt, Gee and Zeppos.
Taylor was among the longest-serving Vanderbilt employees with 57 years of service, but she actually worked in only two buildings on campus – Alumni and Kirkland halls. Her last day in Kirkland was July 2.
Among Taylor's favorite pastimes was attending Vanderbilt men's basketball games. She had longtime seats directly behind the Commodores that were easy to access after two hip replacements. She also was a lover of nature and member of two garden clubs. In addition, she belonged to the Centennial Club and enjoyed spending time with her very large number of friends.
Taylor was preceded in death by her husband, her brother, her father and her mother, Nelle Maria Dunn McClure. Also predeceasing Taylor was niece Marguerite Wallace McClure Averett. She is survived by her sister-in-law, Marguerite Wallace McClure; niece Christopher "Chrissie" Wallace McClure; and nephew Guy Wallace McClure, all of Nashville, Tenn.; and nephew Dr. Christopher C. McClure III, of Clarksville, Tenn. She also has four stepsons: Robert C. Taylor Jr., of Chattanooga; and Vernon S. Taylor, Harrison H. Taylor and Douglas R. Taylor, all of Nashville.
Visitation will be held from 11:30 a.m. to 1 p.m. Wednesday, Aug. 8, at The Cheek House at First Presbyterian Church, 4815 Franklin Road, Nashville, with a memorial service to follow at 1 p.m. in the Stanford Chapel. A private interment will follow at Woodlawn Memorial Park Cemetery.
In lieu of customary remembrances, the family requests with gratitude that memorial contributions be directed to endowed need-based scholarships for undergraduate students at Vanderbilt University.