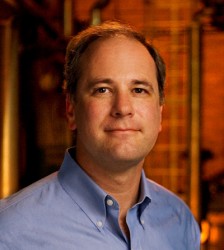 Secretary of Energy Steven Chu has assembled a group of independent technical experts to assess certain aspects of the design of a new, state-of-the art waste treatment plant that the Department of Energy is planning to construct on the Hanford Nuclear Reservation in southeastern Washington state. David Kosson, the Cornelius Vanderbilt Chair of Civil and Environmental Engineering, has been selected as one of its nine members.
The Hanford Waste Treatment & Immobilization Plant Project will be the world's first chemical waste processing facility capable of both separating radioactive liquid waste and turning it into a stable glass form suitable for permanent disposal. The plant is being designed and built to treat millions of gallons of tank waste from plutonium production at Hanford from the 1940s to the 1980s. The review is focused on the plant's capability, as designed, to detect equipment failure and to repair failed equipment inside enclosed concrete rooms in the facility called "black cells." Due to high levels of radioactivity once the plant begins operations, the cells are designed to be sealed with no access by personnel over the plant's anticipated 40-year operating life.
"I will be receiving input from each of these highly capable experts to help improve our ability to detect and address any potential issues in the black cells that could arise during the course of the waste treatment plant's operational life," Chu said. "These experts have a reputation for developing creative solutions to highly technical issues, and their independent advice will enable us to integrate worthwhile ideas into the design of the plant before construction is completed."
"[lquote]David's appointment to Secretary Chu's team is great news. His appointment is further recognition of the Vanderbilt School of Engineering's long-term research expertise in nuclear environmental remediation.[/lquote] It demonstrates that Vanderbilt engineers are focused on some of the major challenges that our nation faces," said Philippe Fauchet, dean of the School of Engineering.
Kosson is familiar with the operations at Hanford due to his role as principal investigator of the Consortium For Risk Evaluation with Stakeholder Participation (CRESP), a multi-university group funded by DOE to advance cost-effective, low-risk methods for cleaning up radioactive waste sites at the nation's nuclear weapons production facilities and to do so in a manner that is acceptable to the people living in the area. CRESP has been funded by DOE for more than 15 years and has had considerable success in assisting the department in designing acceptable remediation plans.