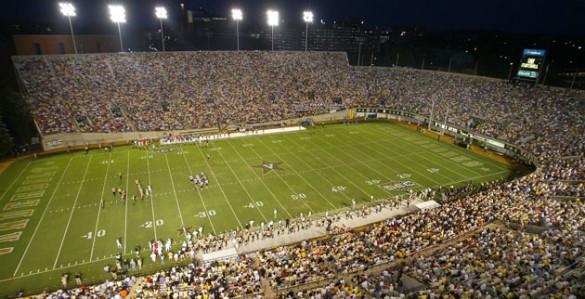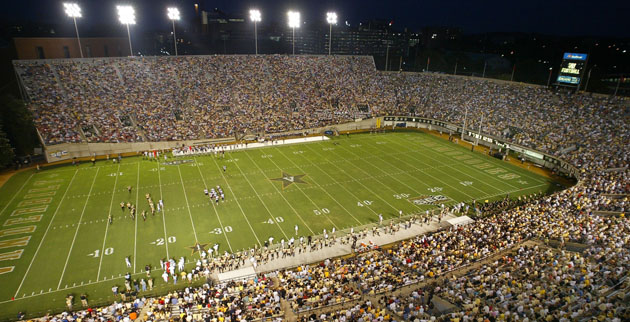 The Commodore football team will launch its season Thursday, Aug. 30, with a nationally televised game on ESPN against Southeastern Conference rival South Carolina. Kickoff is scheduled for 6 p.m.
The game is a great opportunity for the university to gain national attention and a chance to showcase the excitement surrounding the football program and Vanderbilt as a whole.
The game is being played on a Thursday night in compliance with an SEC television contract. Since the game and associated festivities are taking place on a workday, Thursday, Aug. 30, some adjustments in parking and traffic flow are being made to accommodate the influx of fans to campus.
Among the changes:
The N lots will be closed to staff all day on Aug. 30. Those who normally park in the N (shuttle) lots before 3:30 p.m. are asked to park at the Tennessee State Fairgrounds, where shuttles will operate from 4 a.m. Thursday, Aug. 30, until 2 a.m. Friday, Aug. 31. Travel time from the fairgrounds to drop-off points at the Monroe Carell Jr. Children's Hospital at Vanderbilt and Medical Center North are approximately 15 minutes.

Those who normally park in the N lots after 3:30 p.m. may park on levels 4-7 of the South Garage.
Those who normally park in the 25th Avenue Garage may park there as usual, but should be aware that between 4-6 p.m., the garage and the streets around it will be congested with people coming to campus for the game. Traffic directors will be in the garage and on area streets, but congestion and slowdowns are likely. Those who park in the 25th Avenue Garage should be prepared for this congestion.
Jess Neely Drive will be closed from Natchez Trace to 25th Avenue, and Natchez Trace will be closed from Children's Way to Kensington Place beginning at 9 a.m. on Thursday, Aug. 30.
"We recognize this will be an inconvenience for many, and we apologize," said David Williams, vice chancellor for athletics and university affairs and athletic director. "We rarely have night football games during the work week, and we appreciate our employees making sacrifices so that we can showcase our football team and our university in front of a national and international television audience."
Contact: Brock Williams, (615) 343-4411
brock.williams@vanderbilt.edu