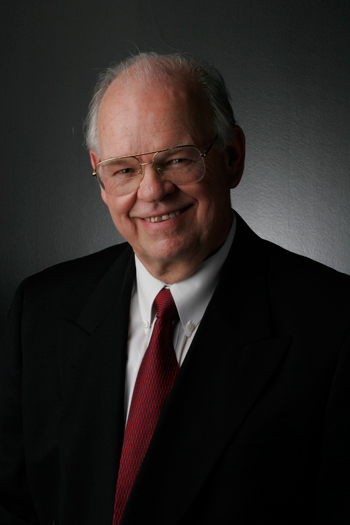 Dieter H.O. Sevin, professor of German and former chair of the Department of Germanic and Slavic Languages at Vanderbilt, died July 29 after a nearly yearlong battle with cancer. He was 73.
A specialist in language pedagogy and the literature of the former East Germany, Sevin taught German language and literature at Vanderbilt for more than 44 years. He also served as director in residence of the Vanderbilt-in-Germany study abroad program several times during his tenure.
Born Nov. 5, 1938, near Wittenberg, Germany, Sevin emigrated from Hildesheim, Germany, to the United States in 1958 and soon entered San Jose State College, where he graduated with a bachelor's degree in 1963. He went on to receive a master's degree in German literature and European history in 1964 and a Ph.D. in German literature and history in 1967 from the University of Washington. Sevin joined the Vanderbilt faculty in 1968.
The following year, he was instrumental in launching the Vanderbilt-in-Germany program with Regensburg University. In subsequent years, he served as the program's director and helped establish a summer exchange program with the Free University of Berlin. Convinced that travel, studies, and/or work in different countries widens perspectives and enriches lives, Sevin saw himself as a cultural mediator between the United States and Germany and worked enthusiastically to enable others to participate in intercultural exchange. He also was active in Nashville's sister city partnership with Magdeburg, Germany, and the German-American Chamber of Commerce.
In 2007, he was awarded the Cross of the Order of Merit of the Federal Republic of Germany, the only order awarded by the president of that nation. When presenting the medal, Dr. Lutz H. Görgens, the Atlanta-based Consul General of the Federal Republic of Germany, remarked, "[lquote]Dieter Sevin is a beacon of German language teaching in the U.S. His entire career has been dedicated to promoting the knowledge of German language, literature and culture in the United States."[/lquote]
Sevin was the recipient of awards and fellowships from the American Council of Learned Societies, the American Philosophical Society, the German Academic Exchange Service and the Vanderbilt University Research Council, and he served as associate director of the Vanderbilt European Studies Center and as a member of the Modern Language Association delegate assembly.
He published hundreds of articles and books, including one of the most popular and widely used German college texts, Wie geht's?: An Introductory German Course, now in its ninth edition, co-authored with his wife Ingrid Sevin.
He is survived by Ingrid Sevin, his wife of 49 years; daughters Sonja Sevin and Karen Bryan; son-in-law Charlie Bryan; granddaughters Caroline and Anna Bryan; brother Dr. Bernd-Uwe Sevin; and several nieces and nephews.
A memorial service will be held at 1:30 p.m. Sunday, Aug. 5, at First Presbyterian Church in Nashville, 4815 Franklin Pike, with a private burial to follow at Harpeth Hills Memorial Gardens. Visitation will be held from 4 to 6 p.m. Aug. 4 in the Cheek House at First Presbyterian Church.
Memorial donations may be made to: The Dieter and Ingrid Sevin Undergraduate Research Fund, Vanderbilt University, Gift Processing Office, PMB 407727, 2301 Vanderbilt Place, Nashville, TN 37240-7727. Contributions will enable students to pursue various kinds of international study, an experience close to Dieter Sevin's heart.