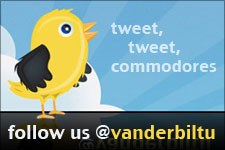 We love hearing from our fans, friends and followers, and we have some very vocal ones on Twitter. Below are just a few of our favorite tweets from the past week.
Be a part of the conversation – follow @VanderbiltU today.
---
NBCLatino Jul 24: @VanderbiltU program 'bridges' Latinos to PhD degrees by @RealAdrianC: ow.ly/ctaim #latism #edchat #edtech
timmytoma Jul 23: @VanderbiltU just arrived for Campus tour .. Nervous and excited @ashleyMcopeland @LaurenCopeland2 pic.twitter.com/7sTHOd2p
HantaClaus Jul 22: PreVu at @VanderbiltU tomorrow! Tour time! #dreamschool
Maulikh Jul 21: Nashville bound. #Excited to be joining @VanderbiltOwen and @VanderbiltU family!!
Trev_Treece4 Jul 20: I want to thank @VanderbiltU for the visit today. I've never felt at home at a college until today. That is the place I'm meant to be!
Anneke_Scott Jul 20: @VanderbiltU was featured in this week's episode of Thru the Wormhole w/ Morgan Freeman @ScienceChannel #eliminateevil? #Science #proud
EbayBay234 Jul 23:  Seriously falling in love w VU. Either they stop sending me info or I'll have to visit
J_Lef_21 Jul 26: I must say I'm impressed with vanderbilt's campus. Definitely the best I've seen so far
KatieJewell3 Jul 23: Vanderbilt is really amazing. Definitely a good choice for a school. #college
Jayzor Jul 26: You know you're a #vandy fan if… you have a section of your closet/drawer dedicated to Vandy paraphernalia. RT if this is you!
KelseyHagen1 Jul 27: Confession: sometimes I listen to the Vanderbilt Commodore Creed when I wake up in the morning to get pumped for the day. #sorryimnotsorry
You can follow more Vanderbilt social media at social.vanderbilt.edu.