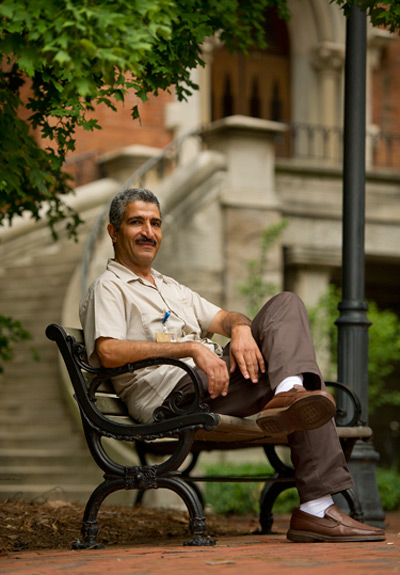 April 19, 2007, is a date etched in Gerges Abdelmeseh's memory. On that day more than five years ago, Gerges, his wife Sheren and two young sons, Bishoy and John, left their native Egypt and settled in Nashville.
The family came to the United States as part of the Diversity Visa Program, a congressionally mandated program that makes available up to 55,000 diversity visas each year to persons from countries with low rates of immigration to the United States. They chose Nashville because Sheren had family living here.
Gerges went to work at the Opryland Hotel, and a third son, George, was born to the couple. In time, they heard about employment opportunities at Vanderbilt, and both were hired, Gerges by Plant Operations as a custodial worker in Kirkland Hall.
"One year exactly after coming to the United States, I started working at Vanderbilt," he said proudly.
In Egypt, Gerges was a mechanical engineer who worked on groundwater extraction projects. He also left behind a large, close-knit family that spent time together daily. The Abdelmesehs made the difficult decision to come to the United States to pursue better educational opportunities for their children, and ultimately, a better life. They welcomed a daughter, Maryam, two years ago, and Sheren now stays home with the younger children.
Gerges said he misses his relatives back in Egypt and stays in touch with his mother and brother through weekly phone calls and email. He and his family have found a new community at St. Pishoy Coptic Orthodox Church in Antioch. Like more than 90 percent of the estimated 12,000 Egyptians now living in the Nashville area, the Abdelmesehs are Coptic Orthodox Christian.
Like many working parents, Gerges' free time is structured around his children, especially helping his academically talented older boys, now 12 and 9, with their schoolwork. Many Sundays are spent at church, where the family participates in Bible study and fellowship activities and the children play sports. "Sundays we can spend all day at the church," he said.
Over the last several months, Gerges and Sheren also have devoted their energies to becoming naturalized U.S. citizens. Both passed the U.S. citizenship test and interview process in June, and their official swearing-in ceremony was July 27.
On July 3, Gerges' colleagues in Kirkland Hall gathered for a brief celebration of his newly minted citizenship, complete with miniature American flags and a trumpet rendition of "The Star-Spangled Banner."
It's acts of kindness like this that make Gerges appreciate working at Vanderbilt.
"It's very nice working here, with very nice people," he said. "If you have a nice environment with nice people, you can work hard."
Additional reporting by Sydney K. Smith