Media Inquiries
Latest Stories
Charlotte Pierce-Baker, a professor in Vanderbilt University's College of Arts and Science, had every reason to think that her only child, pursuing doctoral film studies at the University of Southern California, was on track for happiness and success.
That perception changed dramatically for Pierce-Baker, who is a professor of women's and gender studies and English, when her son turned 25. Mark Baker told her during a long-distance conversation from a phone booth, "They're watching me, Mom. I can see them. I know they're watching me. … Help me, Mom." He was experiencing what she knew to be his first psychotic episode. Soon afterward, he was diagnosed with bipolar disorder type I.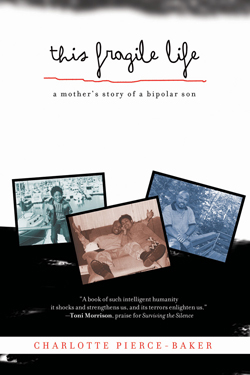 Pierce-Baker shares the story of her son's illness in the recently released memoir This Fragile Life: A Mother's Story of a Bipolar Son. "I wanted others, especially mothers, to know what it was like to live with a bipolar adult child," Pierce-Baker said. "I did not want other parents to be blindsided like we were." She noted that one of the reasons she was willing to go public with the story is that there is a need for greater awareness within the African American community about mental illness and treatment resources.
Pierce-Baker and her husband, Houston Baker, a University Distinguished Professor of African American and Diaspora Studies and English at Vanderbilt, had raised their son with love, strong emotional support and the best education possible. While Pierce-Baker remembers occasional angry outbursts and uncooperative behavior from her son, she thought that it was typical adolescent behavior that would go away. "With all of the information I have now, I probably would have noticed that something was awry, but I wouldn't have known it was bipolar disorder," Pierce-Baker said. "Mental illness was just not something that we talked about in our family."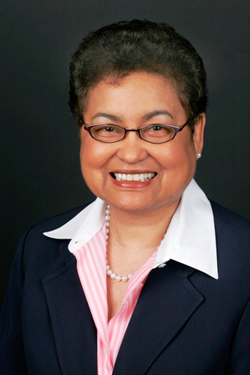 The Bakers dealt with their son's dual diagnosis of bipolar disorder and substance addiction, repeated hospitalizations in cities far away from home, jail time, career challenges and much more. "At the start of patient treatment, it can take weeks or even months for the medicine to click in, and extensive rest is needed," Pierce-Baker said. "Once the medications are in balance, the patient seems much better and you think everything is fine. That is just when the patient could experience a relapse."
Mark Baker eventually married a woman who also has bipolar disorder. The two met during rehabilitation at Skyland Trail, an Atlanta mental health facility. "When Mark and his then-fiancee celebrated the news with us over sparkling grape juice, we were happy for them but somewhat apprehensive," Pierce-Baker said. "That's how you feel when you are the parents of a child with a devastating disorder. We hoped that they would support each other because they knew the illness so well."
Mark and his wife, Michelle, have worked hard to recognize when one of them could be suffering a recurrence of the illness they share.
One of the unusual aspects of the book is that Pierce-Baker has woven examples of her son's poetry and prose throughout the manuscript in an effort to convey how he felt during his illness and how bipolar disorder has affected his life.
The title of Pierce-Baker's book This Fragile Life (Lawrence Hill Books) was taken from a line in one of her son's poems:
Oh what I wouldn't give
to have it all back again
the way we lived
and how the city lights
drowned out the sin
eager to see those freeways
weave in and out for miles
while listening to Friday night DJs
spin their hard core styles.
So enchanted…
I took this fragile life for granted.
Pierce Baker says that her family's journey toward understanding and treating this dangerous illness that affects not only those who have the disorder – but also those surrounding them – continues. And so does a mother's love for her son.