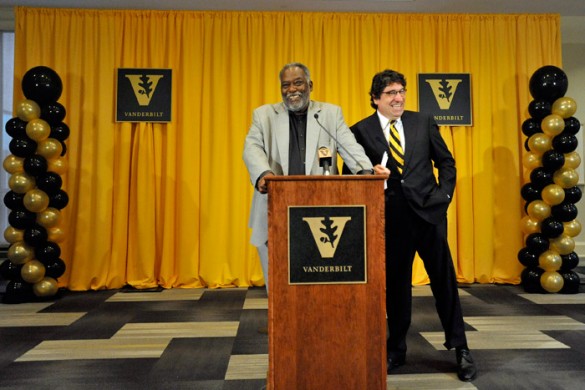 Student athlete GPA is over 3.0 for sixth straight year
2012 graduation success rate for student athletes is 92 percent
10 teams recognized publicly as being in top 10 percent nationally by NCAA Academic Progress Report
All four revenue sports (men's & women's basketball, football, baseball) participated in postseason play, one of the very few programs in the nation to accomplish that feat
Five SEC championship programs (women's cross country, men's and women's basketball, baseball, women's golf)
Two bowl games in last four years, with only five in history of university
First SEC men's basketball championship in 61 years. Team included seven graduating seniors.
Only national championship in school history (bowling)
Vanderbilt's first trip to College World Series
Renovations and upgrades to facilities:

Jumbotrons in football stadium and basketball gym
New locker facilities in Memorial Gymnasium for men's and women's basketball teams
New turf, new lights and refurbished locker room in stadium; building a seating berm in stadium
New turf and multiple upgrades to Hawkins Field
Multiple upgrades to McGugin Center including Hendrix Dining Room, Stratton-Foster Academic Center, locker rooms for all sport programs
New multi-use facility and new additions upcoming at Vanderbilt Legends Club
Improvements to Vanderbilt Tennis Center Complex
Plans for an enhanced recreation center open to entire Vanderbilt community and construction of a multipurpose facility to include: indoor practice field that can be used for varsity football, soccer and lacrosse, intramural and club sports teams, bowling lanes and an indoor track for use by university's athletic teams and students, faculty and staff

More student-athletes studying abroad and teams traveling to places such as Japan, South Africa, Italy, Greece, France and Australia
15 to 20 percent of graduating student athletes going directly to graduate and professional school
More student-athletes going to pro sports nationally and globally. In 2011, an SEC-record of 12 baseball players were drafted in the MLB draft. Two men's basketball players drafted in first round of 2012 NBA draft, along with the first pick in second round.
Vanderbilt finished 51st in Director's Cup out of more than 280 schools who scored points. Previous finishes included Vanderbilt all-time highs.