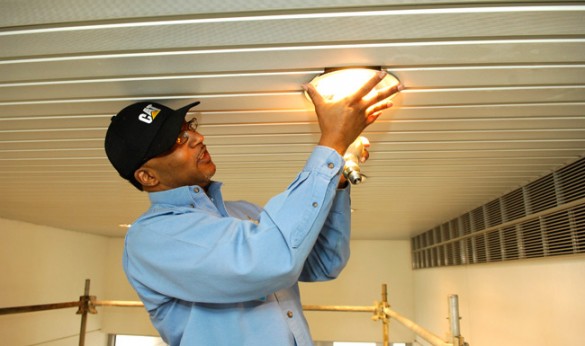 When Nashville temperatures soared to an all-time high last Friday, the Vanderbilt campus kept its cool, thanks in part to low humidity as well as the long-term energy conservation efforts of administrators and the ready response of Vanderbilt employees.
Even though the thermometer reached a record 109 degrees June 29, the university's total electrical consumption was only 60 megawatt-hours – 20 percent less than Vanderbilt's all-time high usage of 72 megawatt-hours, according to Mark Petty, vice chancellor for plant operations. In addition, the university campus maintained a reserve of almost 1,000 tons of chilled water capacity in its system.
Read more about energy use at Vanderbilt.
Back in 2008, Vanderbilt's Division of Administration formed a three-pronged approach to reducing campus utility usage. This included making improvements to existing buildings, installing energy efficient systems in newly constructed buildings, and educating faculty, staff and students in utility-conserving practices.
Since then, thousands of light bulbs have been retrofitted with more efficient LED bulbs and HVAC and automation systems have been upgraded in buildings across campus, among other efforts. Plant Operations personnel are continuously seeking ways to reduce energy consumption by substituting and matching the most energy efficient products to specific applications.
The Sustainability and Environmental Management Office (SEMO) has spearheaded efforts to educate the Vanderbilt community in ways it can help to reduce energy use year-round. Simple steps – such as adjusting thermostats, turning off lights and shutting down office and lab equipment when not in use – can add up to big savings for Vanderbilt. (Learn more energy-saving tips from Vanderbilt's ThinkOne website).
"Over the past several years News and Public Affairs, VUMC Plant Services, SEMO and Plant Operations have spent considerable time and resources increasing the awareness of conservation on campus and improving the efficiency of our cooling and lighting systems," Petty said. "Last Friday was evidence of the payoff for these efforts."