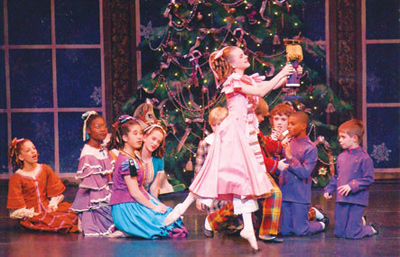 Nashville Ballet is celebrating Christmas in July by offering cool discounts on tickets to one of its most popular shows, Nashville's Nutcracker, which will return to TPAC's Jackson Hall for 11 performances Dec. 9-23.
Tickets to all performances included in Nashville Ballet's 2012-13 season will be on sale to the public Monday, July 2, but only Nashville's Nutcracker tickets will be discounted $12 each.
Use the discount code "XMASJULY" when purchasing tickets in person at the TPAC box office (505 Deaderick St.), by phone (615-782-4040) or online and receive $12 off each ticket purchased to Nashville's Nutcracker.
"So many ballet fans cite a production of The Nutcracker as the reason they fell in love with dance in the first place," Nashville Ballet Artistic Director and CEO Paul Vasterling said. "We want to offer that experience to as many Nashvillians as possible so they can learn about this very artistic and expressive art form and become ballet fans for life."
In their excitement to celebrate Christmas in July, two characters from Nashville's Nutcracker will make surprise public appearances across the city June 29-July 31.
This year's performance of Nashville's Nutcracker will include an expanded youth cast to accompany Nashville Ballet company and second company members in telling the story of young Clara and her nutcracker. Clara's visit to the Tennessee Centennial Exposition in 1897 is only the beginning of her magical journey with her nutcracker to the Land of Snow and the Kingdom of the Sugar Plum Fairy.
Nashville Ballet will host open auditions for children 8 to 12 years old who would like to perform in Nashville's Nutcracker. The auditions will take place from 11:30 a.m. to 3 p.m. Sept. 9 and 19 at The Martin Center for Nashville Ballet. Children must be 8 years old by Dec. 31, 2012, to audition.
Contact: Jan Puckett Morrison, (615) 297-2966, ext. 28
jmorrison@nashvilleballet.com