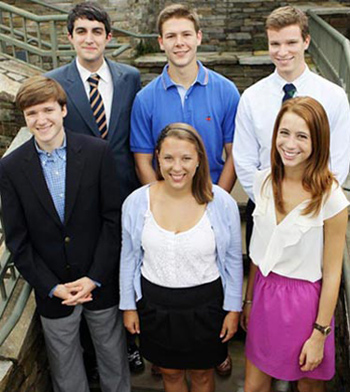 Vanderbilt and two other universities will share a $75,000 grant from the Piedmont Natural Gas Foundation to support student fellowships in community sustainability, research and service.
The Piedmont Natural Gas Foundation Partners Program will include a total of six undergraduate students, two each from Vanderbilt, Duke and Furman universities. Each fellowship is worth $8,000, and the grant also will support research, travel and other programming opportunities for the students.
Vanderbilt's fellows are Kelsey Kaline, a junior Sustainable Community Development major from Beverly Hills, Mich., and Alexandra Scavone, a junior Economics and Earth and Environmental Science major from Princeton, N.J.
The Piedmont Natural Gas Foundation Partners Program has two primary goals: to support student learning through applied sustainability research and service; and to build capacity in local communities to address sustainability challenges related to energy efficiency and community development.
"Sustainability is a core value that Piedmont Natural Gas strives to incorporate into every facet of our daily business and promote through the work of the foundation," said George Baldwin, managing director of government relations and sustainability for Piedmont Natural Gas and vice president of the foundation. "We believe this program will provide enriching educational experiences for our student fellows while also developing energy efficiency and environmental stewardship programs that can help build truly sustainable communities."
The key participants from the three schools, including their faculty supervisors, gathered on the Furman University campus June 11-12 for a workshop to discuss the fellows program and provide information about their individual projects. As part of the workshop, students and faculty identified replicable connections across the projects.
The three schools also will share their approach with other universities and communities as a model of how students can positively impact their local communities through research and service.
The six students will be involved in a variety of sustainability projects in their communities. They include creating a sustainability statement for the state of Tennessee; creating a residential energy efficiency program in Durham, N.C.; and documenting the process of developing and implementing a Climate Action and Sustainability Master Plan for Greenville, S.C.
The fellowship program is being coordinated through the David E. Shi Center for Sustainability at Furman.
Read more about each school's fellows and their projects:
Vanderbilt University
Kelsey Kaline, junior, Beverly Hills, Mich.

Alexandra Scavone, junior, Princeton, N.J.
Kaline will work with the Tennessee Department of Environment and Conservation (TDEC) in the Office of Sustainable Practices. She will provide research and recommendations and background grant-writing support, and will assist in creating a state sustainability statement.
Scavone is working with the Green Initiatives division of TDEC to create a Governor's Sustainability Statement. She also will prepare TDEC's annual report and research grant opportunities, which can fund sustainable projects in Tennessee.
Duke University
Marc Loeffke, senior, Auburn, Ala.

Charlie Molthrop, junior, Longwood, Fla.
The two will collaborate with the Duke Carbon Offsets Initiatives through a pilot residential energy efficiency program, where they will work with 15 homeowners in the Durham area to install energy efficiency upgrades in their homes. Home energy monitors will calculate the change in energy use. The data will be used to determine the change in carbon emissions for the purpose of generating carbon offsets for Duke and helping the university meet its climate neutrality commitment.
Furman University
Wes Floyd, junior, Charleston, S.C.

Patrick Starr, senior, Atlanta, Ga.
Floyd will work with Greenville officials to help implement a Sustainability Action Plan for the city. He will research implementation strategies used by other cities and provide support to the city's Green Ribbon Advisory Committee, which advises the city council, the city manager and other city staff on the development of programs and initiatives regarding sustainability. Floyd, based on his research, will craft a manual for other municipalities about the process of developing a Climate Action and Sustainability Plan.
Starr will work with the U.S. Endowment for Forestry and Communities, a Greenville-based foundation committed to advancing sustainable forestry and vibrant rural communities across America. His work will include creating a database of U.S. watershed protection programs and developing a database of all protected forestlands in the 13 Southern states. He may also work with bioenergy projects.
Contact: Tiffany Renfro
tiffany.m.renfro@vanderbilt.edu