Media Inquiries
Latest Stories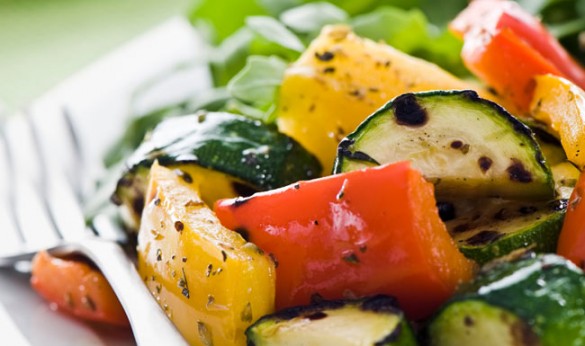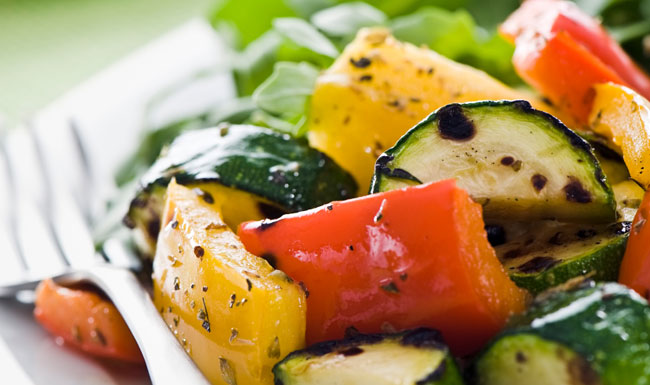 What's a Fourth of July cookout without burgers on the grill, creamy potato salad, chips and dip, cold beer and apple pie? An Independence Day celebration wouldn't be complete without an outdoor feast.
But before you dig in to that classic American meal, consider the impact it could have on your body. Hamburgers and hot dogs are high in fat and sodium. Potato salad is loaded with calories. And beer and cocktails rack up the carbohydrates while dehydrating your body in the summer heat. Sure, it's a free country – but is this the best way to celebrate it?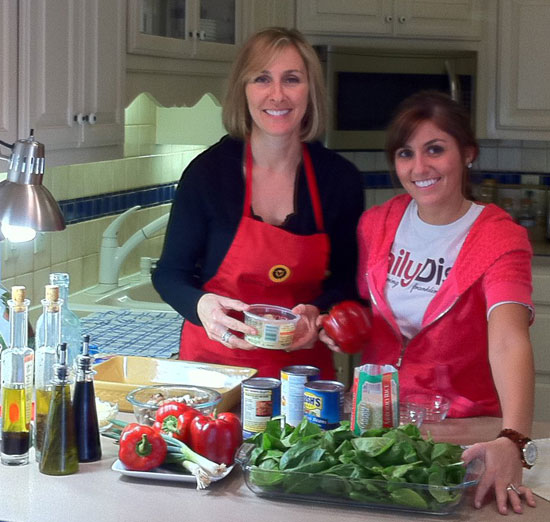 Never fear: You need not sacrifice flavor for health when it comes to cookout cuisine, according to Stacey Kendrick, health promotion coordinator for Vanderbilt's Faculty/Staff Health and Wellness and healthy cooking guru. The first step, she said, is balancing out your plate.
"At mealtime, and especially at cookouts, we are used to featuring the meat as the star of the menu," Kendrick said. "But balancing your plate so it represents four equal parts – protein, grains, vegetables and fruits – with dairy on the side is the new trend in healthy eating."
Burgers are quintessential cookout food, but there are lots of ways to include protein without overindulging. Kendrick suggests reducing portion sizes of steaks and burgers as well as offering leaner protein options, such as ground turkey burgers, marinated flank steaks, black bean patties or tofu dogs.
Lean, organic chicken is a healthy replacement for red meat, a known contributor to obesity and heart disease. One of Kendrick's favorite grilling recipes is her mom's bone-in chicken breast.

"It's so easy. I peel back the skin (which is high in fat, but holds the moisture of the meat in) and place fresh rosemary sprigs and a little bit of olive oil in between the skin and meat," she said. "I seal it with a toothpick and grill it. When I serve it, my guests can just peel off the skin and all that flavor and juiciness is infused into the chicken." It can be made ahead of time and grilled and served cold, too.
For vegetarians and carnivores alike, a portobello mushroom cap – marinated, grilled and topped with fresh tomato, onion and avocado – makes for a healthy, satisfying and tasty burger substitute.
Kendrick's go-to dish for parties is a platter of grilled marinated vegetables, using tomatoes, onions, peppers, zucchini, carrots and eggplant.
"[rquote]My trick is that I grill them ahead of time and serve them chilled, sprinkled with fresh herbs. [/rquote]Skip the burger and make a meal of veggies. You won't miss the meat."
Summer is a great time to buy in-season locally grown foods at local farmers' markets. Meats, grains, eggs, fruits and vegetables grown nearby are fresher, and buying them when they are in season means peak flavor as well.
"Eating seasonal and local means you're getting the very healthiest, freshest and best-tasting foods possible," Kendrick said. "And you can add fresh herbs, like cilantro, basil and dill, to any dish to amp up that fresh summery taste without adding fat, salt or sugar."
Get recipes for light and easy summer salad dressings
While tomatoes are abundant, use them for a cool summer side dish – the Caprese salad: juicy, red tomato slices topped with fresh mozzarella, olive oil, basil, sea salt and fresh ground pepper.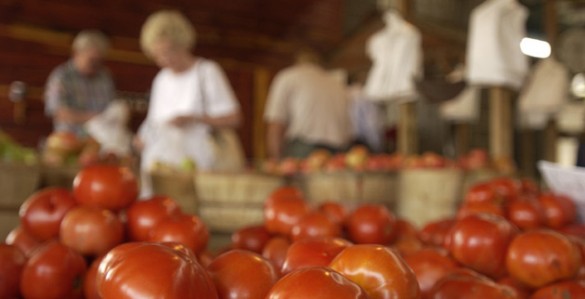 "Tennessee has some of the best tomatoes in the country," Kendrick said. "I really look forward to those fresh, in-season tomatoes that only come around in July."
Sweet corn is another summer favorite that doesn't require using the stove. Soak ears of corn in water until the husks are saturated. Toss them on the grill for a few minutes and the husks serve as a built-in steamer.
"It's too hot to be boiling water on the stove," Kendrick said. "I try to take advantage of the grill in the summertime so I can stay out of a hot kitchen as much as possible."
Even healthy desserts can be prepared on the grill. Slide slices of fruits like peaches and pineapple on water-soaked wooden skewers, and grill lightly until their natural sweetness caramelizes. Serve them warm with a low-fat vanilla yogurt dipping sauce for a healthy sweet treat. Fruit salads using cantaloupe and watermelon are also summer staples that satisfy the sweet tooth.
For a patriotic dessert, Kendrick suggests a recipe that her co-worker, registered dietitian and Health Plus manager Marilyn Holmes, taught her that has become a staff favorite at parties. It's a red, white and blue trifle.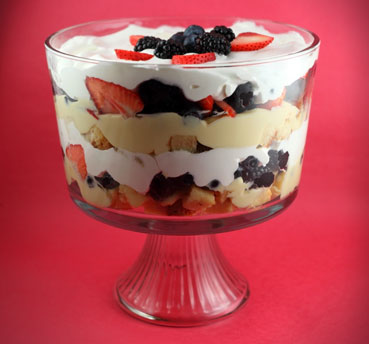 "I make this ahead of time by layering angel food cake with vanilla yogurt, fresh strawberries, raspberries, blueberries and Cool Whip. I like keeping my desserts light in the summer," she said.
If beer and wine are part of your celebration, Kendrick advises caution. "Alcohol dehydrates, so if you're in the heat, you need to double up on drinking water, and you really shouldn't drink alcohol."
But if you do choose to imbibe, she says a wine spritzer (wine mixed with seltzer water) is a better choice than beer or hard liquor. Better yet, how about a "mocktail"?
"I like sipping flavored seltzer water that is garnished with lemon or lime," Kendrick said. "It's refreshing, healthy and not dehydrating."
Helpful Links
LISTEN: The Benefits of Cooking with Herbs
WATCH: Cooking Veggies on the Grill
WATCH: Grill Safety Tips
WATCH: More videos from the Healthy Kitchen Cooking Library
What are you having for your Fourth of July cookout? Comment below!