Media Inquiries
Latest Stories
Three Vanderbilt University alumni who demonstrated leadership as student journalists and then achieved remarkable success in careers that include sports writer, television anchor and overseas financial reporter will be inducted into the Vanderbilt Student Media Hall of Fame on Oct. 26.
Those selected for the 2012 class are Willie Geist, MSNBC morning show host and contributor to several NBC programs; Clay Harris, London-based journalist who spent much of his career at the Financial Times; and Lee Jenkins, senior sports writer for Sports Illustrated.
A ceremony and reception to honor the fourth class of inductees is scheduled from 3:30 to 5 p.m. at the First Amendment Center at Vanderbilt. The event will be held during Homecoming/Reunion weekend. The Vanderbilt Student Media Hall of Fame was established in 2009 to honor Vanderbilt University alumni who have achieved outstanding personal or professional accomplishments and/or have made distinguished and lasting contributions to their field and/or to society in general. Induction into the Hall of Fame is the highest honor Vanderbilt Student Media can bestow on its former students. To be eligible for recognition, alumni must have worked as a student staff member at least 10 years prior to the Hall of Fame induction date.
Geist is the host of MSNBC's Way Too Early with Willie Geist, co-host of Morning Joe and a frequent fill-in for Matt Lauer on the Today show. He has a video blog on MSNBC.com called Zeitgeist.
Geist grew up in Ridgewood, N.J., and had the distinction of being captain of both the Ridgewood High football and basketball teams. As a Vanderbilt freshman, Geist tried out for the men's basketball team. That didn't work out, but he found his way into Memorial Gym by volunteering at the women's basketball practices.
He was first a staff sports writer and then an associate sports editor for the Vanderbilt Hustler. "I had never covered sports because I'd been playing them my whole life," Geist said. "Sports writing kept me close to the games in college. My classmate Tyler Kepner, who was a Fred Russell-Grantland Rice Scholar, was a great friend and editor at The Hustler. It's been exciting to watch him reach such great heights." Kepner, a 2011 Student Media Hall of Fame inductee, is national baseball writer for The New York Times.
Geist was named a contributing editor of the Hustler his senior year. Meanwhile, his interest in American, and particularly Southern, politics deepened with classes taught by political scientists like John Geer, Bruce Oppenheimer and John Kuzenski.
Geist earned his bachelor's degree in political science in 1997. He jumped into sports television as an editor and producer for CNN/Sports Illustrated, a 24-hour sports network based in Atlanta. "Starting as a production assistant, I learned every inch of the television business," Geist said. He later became a producer and writer for Fox Sports Net.
In 2005 Geist joined MSNBC as a senior producer for The Situation Room with Tucker Carlson. His newsroom banter with Carlson became a regular feature of the program where Geist would report and offer his unique spin on the day's news. Geist's big break came in 2007 when he was named co-host of Morning Joe, which has grown to become arguably television's most influential political show.
"I encourage students to focus on liberal arts and to simply get smart," he said. "Take political science, history, economics and whatever else interests you. That base of knowledge will prepare you to think critically about the world. We can teach you the ropes of journalism later." Geist lives in New York City with his wife, Vanderbilt alumna Christina Sharkey Geist ('97), and their two children.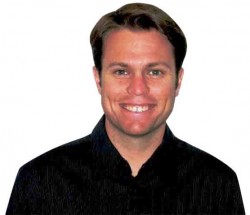 Jenkins, like Geist, started off covering sports at the Hustler. Another similarity between the two inductees is that they both have fathers who are journalists. Geist's dad reports for CBS News Sunday Morning while Jenkins' father is a columnist for the San Diego Union Tribune.
Jenkins grew up in San Diego and was awarded the Grantland Rice Scholarship in 1993. "Tyler Kepner assigned me my first story for the Hustler on Vanderbilt baseball player Josh Paul, who later went pro, before I had finished moving into my dorm," Jenkins said.
Jenkins served as Hustler editor-in-chief, which he calls "the best job I ever had." He remembers pasting up copy and pulling all-nighters on Sundays and Wednesdays to get the paper done. "We would finish around 6 a.m. and head to Pancake Pantry," he said. "The staff had tremendous energy and spirit as we challenged each other to improve. I can remember writing wonderfully long stories, some with only two quotes in them. We were testing the limits of what we could do."
Jenkins, an American Studies major, said certain professors were sympathetic to the long hours of putting out the paper. Classes that he took with Professor of English Kate Daniels and the late Walter Sullivan were among his favorites.
Jenkins recommends student journalists read extensively and take time to absorb the words on the page. "You might tend to mimic other people's voices at first, but eventually you will find your own voice," he said. "Strive to grow as a writer."
After graduation, Jenkins covered UCLA basketball and football for the Orange County Register and the Colorado Avalanche and Denver Nuggets for The Colorado Springs Gazette. In 2003 he joined The New York Times, where his assignments included being the beat reporter for the New York Mets.
Jenkins' numerous honors include first place in the New York Press Association (Sports Reporting) category and the Football Writers Association of America (Best Game Story). In 2007 he was named senior writer at Sports Illustrated, where he has covered everything from the Super Bowl to the NBA finals, with an emphasis on feature writing. Jenkins lives in Los Angeles with his wife, Vanderbilt alumna Elizabeth Cook Jenkins, and their two children.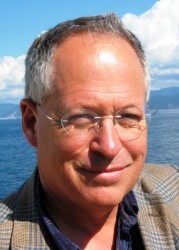 Harris, who grew up in Tampa, Fla., came to Vanderbilt as a national merit scholar. The university's lack of a journalism school actually attracted him to campus as he preferred to focus on the liberal arts. Harris majored in history and economics.
Among Harris' mentors at the Hustler was editor Jeff Davis, who had no problem marking up reporters' copy with a red pencil. After Harris tried writing in "stream of consciousness" for a story about Impact speaker Allard Lowenstein, Davis advised him not to try that again. "In a remarkable way we were self-taught. None of us was a journalism major," said Harris, who was editor-in-chief his senior year. "We learned that journalism was not only reporting and writing stories. There was also an industrial process that required us to go to Murfreesboro to oversee the offset printing."
Harris competed with some 1,200 applicants for a Washington Post internship after his junior year and won a coveted slot with the Los Angeles Times/ Washington Post News Service. Harris was hired by the Tampa Times after graduation. In '73 the Washington Post offered him a position in London, where he would select and edit stories for their syndication clients.
"This was long before the Internet and email so we were dealing with satellite windows, ticker tapes and telex operators," Harris said. During that time Harris met his partner and they have been together for more than 38 years. That relationship was a deciding factor in Harris' decision to settle in London and build his career there.
In 1979 Harris became a news editor at the Financial Times, which was launching its first international edition. "The stories needed to be written in 'neutral' clear English without ideological bias – meaning that they could be understood just as easily to readers in D.C. as to those in Paris or Bonn," Harris said.
He stayed at the Financial Times for nearly 30 years in a variety of reporting and editing positions and created Mudlark, a financial diary column, before retiring in 2007. Harris is now a free-lance columnist for Securities & Investment Review. He said that a liberal arts education was integral to his success. "I would not be where I am today without a Vanderbilt education or the Hustler," he said.
For more information on the Student Media Hall of Fame ceremony, visit www.vandymedia.org.