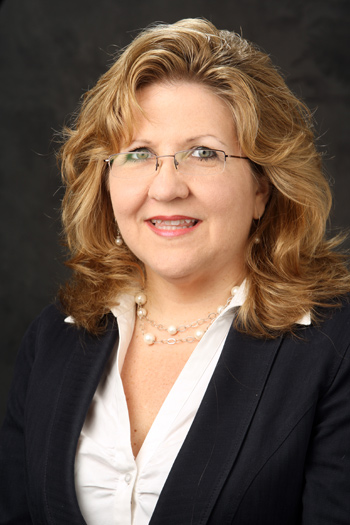 The National Council of University Research Administrators has chosen Michelle Vazin, director of Vanderbilt's Office of Contracts and Grants, to receive its 2012 Distinguished Service Award. The National Council of University Research Administrators established the Distinguished Service Award in 2001 as a way to recognize members of NCURA who have made sustained and distinctive contributions to the organization.
Since joining NCURA in 1994, Vazin has served in many capacities, including her current service on the NCURA Board of Directors. In addition, she was co-chair of the 2012 Financial Research Administration Conference Program Committee as well as co-chair and member of previous NCURA annual meetings. Vazin is a well-known speaker at both regional and national NCURA meetings and has previously served as a member of the Financial Management Subcommittee on Development, as a NCURA magazine contributor and as a NCURA TV presenter.
"Michelle Vazin is a most deserving recipient of this award," said Kathleen Larmett, NCURA's executive director. "She has worked, and continues to work, tirelessly for both NCURA's members and the entire research community. She is a wonderful ambassador for both NCURA and Vanderbilt University."
Vazin will receive her award on Nov. 5 at the NCURA 54th Annual Meeting to be held in Washington, D.C. The annual meeting will take place Nov. 4-7.
Other 2012 recipients of the Distinguished Service Award include Michele Codd, associate director of sponsored projects administration at George Washington University; Barbara Cole, associate vice president of research administration at the University of Miami; Franc Lemire, director of grants administration and compliance for the American Academy of Addiction Psychiatry; and Susan Sedwick, associate vice president for research and director of the Office of Sponsored Projects at the University of Texas-Austin.
NCURA is a 7,000-member professional society dedicated to advancing the field of research administration through education and professional development programs; the sharing of knowledge and experience; and by fostering a professional, collegial and respected community. For more information, visit the NCURA website.
Contact: Alissa Brower, (202) 466-3894
brower@ncura.edu