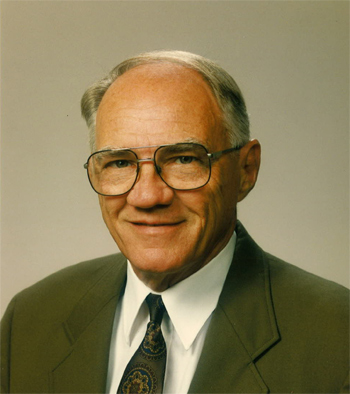 Jack Forstman, who built significant community and national support for the Vanderbilt Divinity School while serving as a beloved mentor and leader to many generations of students and faculty, passed away June 17.
Forstman, dean emeritus of the Divinity School and ordained minister in the Christian Church (Disciples of Christ), was 83 years old.
"Jack was a true giant and the ultimate public intellectual," said Vanderbilt University Chancellor Nicholas S. Zeppos. "He devoted himself tirelessly to sparking conversation within the Vanderbilt community and connecting the university with the wider world. He was a master facilitator whose fingerprints remain on the many programs and roles through which he shaped this institution."
Forstman's life will be celebrated at 2 p.m. June 20 at Vine Street Christian Church, where he was a devoted member. A reception will follow at the church, located at 4101 Harding Road in Nashville.
"Jack's love of the school, its students, faculty, graduates and supporters was as deep and infectious as his laugh," said James Hudnut-Beumler, dean of Vanderbilt Divinity School and the Anne Potter Wilson Distinguished Professor of American Religious History. "He welcomed so many people into the Divinity School and challenged them to be their best and truest selves that his impact is unfathomable."
Forstman grew up in Birmingham, Ala., where his parents were early civil rights supporters. He earned his undergraduate degree in 1949 at Phillips University and was selected as the outstanding male senior there. While at Phillips, he preached for two years at a rural Kansas church. He later served as a church youth director. After graduation, Forstman preached at a Christian Church in Huntsville, Ala., for three and a half years.
Forstman then enrolled at Union Theological Seminary, where he earned his doctorate in theology in 1959. The research for his dissertation on John Calvin became his first book, Word and Spirit: Calvin's Doctrine of Biblical Authority. He taught at Randolph-Macon Women's College and Stanford University before coming to Vanderbilt in 1964.
Forstman held a variety of administrative positions on campus, including chair of the Graduate Department of Religion, chair of the Faculty Senate and dean of the Divinity School from 1978 to 1989. During that time, he taught at least 100 courses on more than 30 subjects. He began a tradition of Divinity School breakfasts that continues today in which faculty members share their research with the university and Nashville communities.
He also established a board of advisers to consider issues important to the life of the school. In 1989 the Jack and Shirley Forstman Scholarship Fund was established in recognition of his many years of leadership.
Under his watch, the school's endowment tripled. Major financial gifts provided an endowment for a collection of books on Judaism, enhanced recruitment and selection of gifted candidates for ordained ministerial work and created a professorship to honor the role of women in Christianity.
In 1993 Forstman was awarded the Thomas Jefferson Award "for distinguished service to Vanderbilt through extraordinary contributions as a member of the faculty in the councils and government of the university." At the time of his retirement in 1996, he was the Charles G. Finney Professor of Theology.
When asked why he was retiring, Forstman was quoted in The Spire as saying with a chuckle, "I'm retiring so I can do my work." However, he graciously agreed to return to a leadership post from 1999 to 2000 as acting dean.
During his tenure at Vanderbilt, Forstman had four books published, including Christian Faith in Dark Times: Theological Conflicts in the Shadow of Hitler (Westminster/John Knox Press, 1992).
Forstman's teaching and research interests included theological education, the history of Christian thought and ecumenical church relations in Germany. Through the years he did numerous media interviews that raised the profile of the Divinity School on topics ranging from government displays of the 10 Commandments to former Vice President Al Gore's time as a Vanderbilt divinity student.
Following retirement, he taught at Brite Divinity School. He was a member of the Commission on Theology of the Council on Christian Unity from 1958 to 2000, serving as chair for 25 years. He was denominational liaison to the Faith and Order Commission of the World Council of Churches from 1978 to 1989 and participant in the International Commission for Dialogue between the Roman Catholic Church and the Christian Church (Disciples of Christ) from 1980 to 2000. He was passionate about Jewish-Christian relations and was a founding member of Nashville's "Group of One."
Family members who survive Forstman include his wife, Shirley; three children, David, Valerie and Paul; daughter-in-law, Conni; partners, Angela Carnahan and Scott Thornton; as well as grandchildren and great-grandchildren.
In lieu of flowers, donations can be made to Vine Street Christian Church or to the Jack and Shirley Forstman Scholarship Fund at Vanderbilt Divinity School.