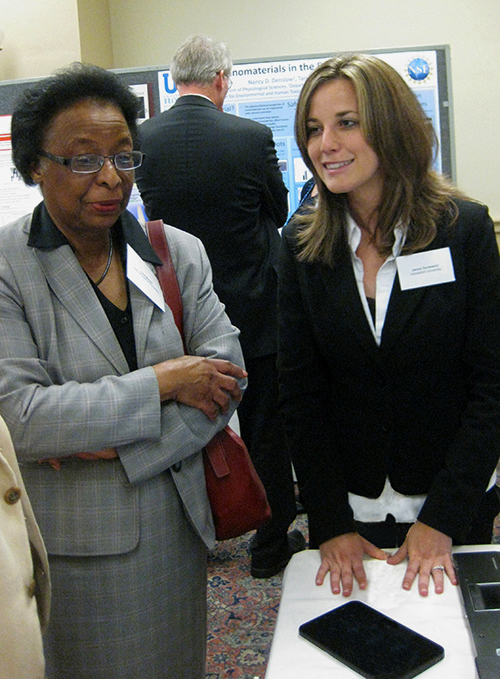 Each May for the past 18 years, the Coalition for National Science Funding (CNSF) has held an exhibition and advocacy day on Capitol Hill designed to illustrate how society benefits from federal support of science, engineering and mathematics research. Vanderbilt is a member of the alliance of more than 120 organizations that advocate on behalf of the National Science Foundation's research and education programs.
This year, the exhibition was held on May 15th and Vanderbilt's Office of Federal Relations was an active participant. According to Assistant Vice Chancellor for Federal Relations Christina West, they hit a home run when they invited Jenna Gorlewicz as their campus participant. Gorlewicz is a graduate student in mechanical engineering who has developed some apps for android tablets that help visually impaired students learn mathematics. We did a multimedia story about her research in March.
Gorlewicz, who describes herself as a "people person," was drawn to the idea of developing the apps because they have the potential for helping students almost immediately, unlike many basic research projects that take decades before they are appear in commercial products.
"Jenna did a terrific job and her work really impressed all of the Congressional Staff we met with as well as the numerous people who stopped by our table at the exhibition," West reported. "She was very good at repeatedly explaining her research and demonstrating the technology involved."
During the day, West and Gorlewicz made the rounds of the Tennessee delegation, meeting with the staff in the offices of Senators Corker and Alexander and Representatives Cooper, Black and Fleischmann. They also met with the Democratic staff of the House Science Subcommittee on Research and Education. At the exhibition in the evening, a number of other dignitaries dropped by the Vanderbilt booth and chatted with Gorlewicz.
"One of the highlights was when the Deputy Director of NSF, Cora Marrett, stopped by, talked with Jenna for at least 10 minutes and was genuinely impressed by her research," West said.